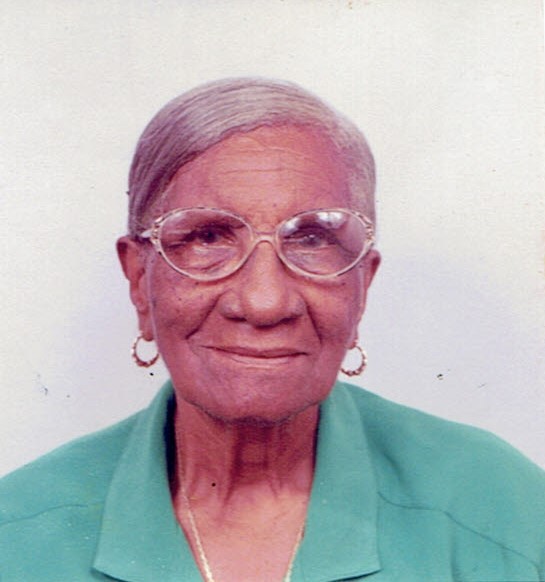 Catherine Dagma "Dar" Royer died on Sept. 24.
She is preceded in death by her niece, Augustina Roama; and nephew, Elma Leblanc.
She is survived by her daughter, Flora Royer; son, Faustin McDowell; granddaughters: Theresa Duncan (Andre Duncan) and Dagma Cummings; great-granddaughter, Felicia Bello; grandson, David McDowell; great-grandson, Aiden McDowell; daughter-in-law, Zilla McDowell; sister-in-law, Anestazia Leblanc; nieces: Louise Augustin, Gertrude Leblanc, Janey Leblanc, Adrina Royer, Joyceline Vidal and Dagma Barry; and nephews: Ninian, Cecil, Byron, Ferdinand and David Leblanc, and Mark Massicott.
She is also survived by cousins and special friends: Errol and Olive Bedminister and family, Gillium Paul Benjamin and family, Linda Burton and family, Cyril Brumant and family, Eunice George and family, Patricia and Dennis Griffith and family, Wyllis and Adelle Gilbert and family, Conroy and Nita Mosier and family, Gordon and Lillia Haynes and family; Helen Joseph and family, Brenda James and family, St. George Joseph and family, Lawrence and Jane Josse and family, James and Merna Matthew and family, Ervin and Laurel Royer and family, Erma Lewis and family, Zinnia Williams and family, Avril and Isidore Austrie and family, the Blanford family and the Bruno family.
Other survivors include more cousins and friends: Laurence Patrick and family, Wyllis and Dorie Leblanc and family, Annie Hazel and family, Isabella Florent and family, Alice Hughes and family, Florine Jones and family, Vena Henry and family, Francese Massicotte and family, the Romain family, the Sacred Heart Society family, the Secular Franciscans family, the Magnificate family and St. Ann's Parish family; assistant caregivers: Gillium Benjamin, Theodosia Christopher and Liza Burton; godchildren: Cyril Brumant and others too numerous to mention; special friends: Vena Henry and Ruth Samuel; as well as other relatives and friends too numerous to mention.
A viewing will be held from 3-5 p.m. on Thursday, Oct. 6, at Divine Funeral Services Chapel.
There will be a second viewing held at 9 a.m. followed by a funeral service at 10 a.m. on Friday, Oct. 7, at St. Ann's Catholic Church. Interment will be at Kingshill Cemetery.