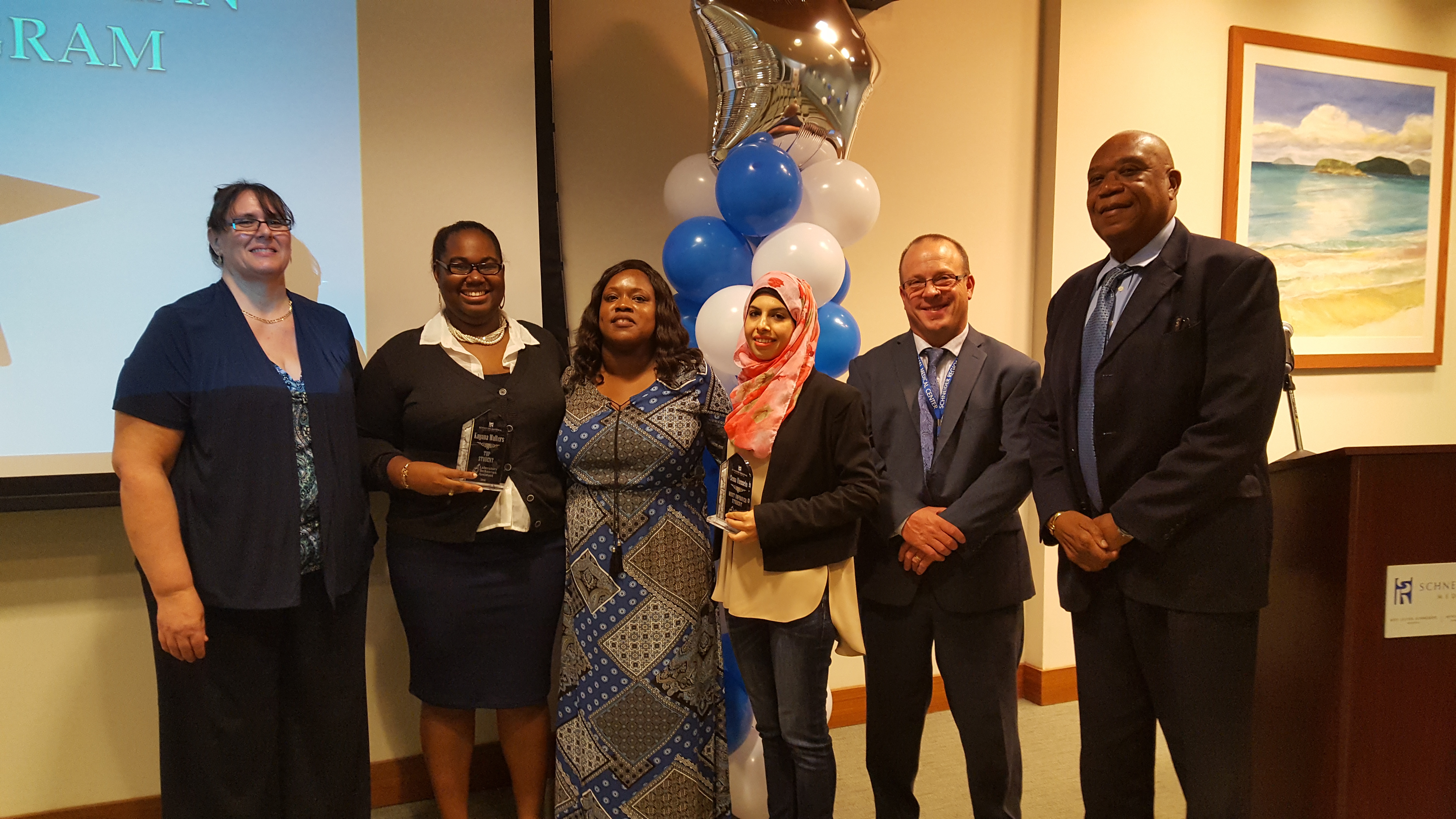 Schneider Regional Medical Center (SRMC) has announced the graduation of three students from its laboratory technician assistant program. They have completed a clinical laboratory assistant program offered by Weber State University and one year of clinical training at the SRMC, making them eligible to sit for the board exam to become certified medical technologists.
The three, Sena Hussein, Amira Plaskett and Kayana Walters, are the first to graduate from this new program. As part of SRMC's continuing efforts to reduce costs, Mauritza Phillip, the director of the clinical laboratory at RLS Hospital, was approached by the senior VP of operations and challenged to find a way to reduce the number of her staff members that were traveling contracted employees.
The challenge resulted in what she has dubbed the "Grow our Own" program. Funded in part by the Bennie and Martha Benjamin Foundation, the team at the medical center created a program to develop a cadre of professionals to staff SRMC's laboratory. They then began recruiting for the program those Virgin Islanders holding bachelor's degrees in various sciences (chemistry, biology, etc.).
Key note speaker, former SRMC laboratory director Gwen Creque-Rojas, spoke to the graduates about the discipline they have chosen to pursue. "Science is an awesome field. Many shy away from it, but it holds a world full of opportunities for those who engage."
She reminded them of the important role they play in the well-being of patients. "There will be many challenges to face, demanding interactions with doctors, nurses, senior leadership – but remember you are here to provide service to our patients – so serve well. Make their hospital stay as hospitable as possible."
Kayana Walters, the class valedictorian, is a 2015 graduate of Howard University. She holds a Bachelor of Science in Biology. She learned about the program through her Howard roommate and fellow laboratory technician assistant program graduate Amira Plaskett.
Walters thanked SRMC for the opportunity and the lab staff for standing by the three graduates. "Through this program, I gained a better understanding of all the behind the scenes work involved in diagnosing patients," said Walters. "I always thought I would be pursuing other options in medicine, but I may now be exploring obtaining a master's degree in lab sciences with a focus in microbiology," she said.
In 2011 Sena Hussein graduated from the University of the Virgin Islands with a degree in chemistry. She approached the hospital about working as part of their team and was directed by human resources to the Laboratory Technician Assistant program. She said the chemistry aspect of lab work is what she loves best. She hopes to advance her laboratory career with a focus on chemistry.
Amira Plaskett also holds a Bachelor of Science degree in Biology from Howard University. The 2015 graduate thought she wanted to become a medical doctor, but she has discovered how much she enjoys laboratory work along with research. She is now exploring other options in health care. "Immunology really excites me!" she said. "Being in the lab has exposed me to so many other options in the health care field. I want to thank the staff at SRMC, especially in the lab. The technicians were very supportive of the program. They took good care of us" she added.
The graduation of this class marks the first step in a larger plan designed to reduce the need for traveling laboratory technicians while at the same time providing training to locals so they can fill key positions at SRMC.
Phillip is already moving ahead with class number two, which she says will graduate by August 2017.
According to the U.S. Bureau of Labor Statistics (BLS), the projected number of jobs for medical and clinical laboratory technologists will grow at a rate of 16 percent through 2024. Medical and clinical laboratory technologists are employed by hospitals, laboratories, physicians' offices, and colleges and universities.
For more information about the "Grow our Own" program at Schneider Regional Medical Center, contact:
Clinical Laboratory Director Mauritza Phillip at 776-8311.