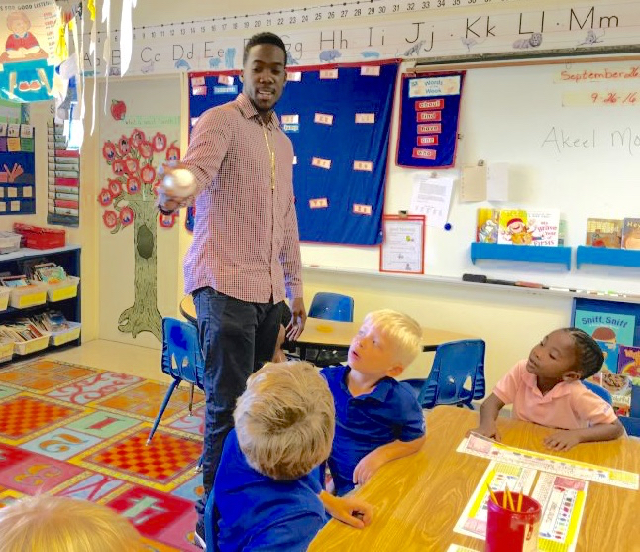 Questions from a group of Antilles School first graders gave big league baseball player Akeel Morris a chance Monday to reflect on his love for the game, what inspires him to keep playing and what he hopes will come about next season as he begins to settle in with his new team.
Morris, who was traded in June from the New York Mets to the Atlanta Braves, is leaving the island Monday afternoon for fall training, but said during the student session that he has high hopes of being recalled to the majors as he continues to improve on his game.
After speaking Monday, the 23 year old said that he learned quite a bit from his MLB debut with the Mets last year, and is excited about what he is already experiencing with the Braves, an organization more known for its pitching.
"The trade was shocking to me at first," he said Monday. "It was like 9 o'clock in the morning when I got the call, but what they were telling me is that I have a better opportunity there and I see it, and I feel like we're going to be pretty good, we have some great talent."
Morris said that, so far, the focus on the field has been more on pitching, which he said will help him improve as he continues to climb from the organization's AA team.
"They want me to pitch a little more, like to extend my innings," Morris said. "With the Mets, I could pitch one, but here, they want to push me to two, or sometimes I pitch three, and I like the transition. They want you to fulfill different roles in the big leagues, whether you're in the middle of the bullpen or the back end, they want you to be able to pitch two innings and that's good."
Morris was invited to speak by Antilles parent Sal Griffin for a unit the first grade is doing on community careers. The previous week, the class also hosted 340 Boxing's professional fighter Julius Jackson along with a range of parents that spoke about everything from being a stock broker to an FBI agent.
Speaking to the class, Morris said he started playing baseball early but actually wanted to quit the sport when he got to Little League on St. Thomas. Asked by one student what inspired him to keep playing the game, Morris said that encouragement from his parents is what kept him going, along with support from fellow St. Thomas Future Stars Baseball alum De'Shorn Lake, who Morris said helped him switch to pitching and get the exposure he needed to move ahead.
Morris was drafted by the New York Mets organization at age 17, and he told students Monday that his favorite part of the experience has been just being on the field, living his dream as a baseball player.
"Just working out in the sun, soaking it up, throwing and improving my game, that is just the best," he said.
Morris also signed baseballs for the students Monday, while showing off some of his pitching secrets.