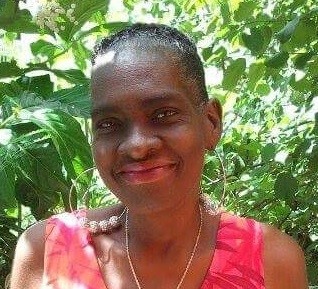 Michelene Elenora Nurse of Estate Peter's Rest died on Thursday, Sept. 15. She was 58 years old.
She is preceded in death by her mom, Aurora Christian Chase.
She is survived by her children: James P. Hill Jr., Hadiya T. Lazare, Jabari A. Lazare and Errol Briggs Jr.; father, Percival Nurse Sr.; special friend, Errol Briggs Sr.; sisters: Allison Nurse, Monic Nurse, Erma Chase Derima, Debra "SugarDee" Nurse, Jeanette Nurse-Mercer, Celia Nurse, Laura Peters, Donna Gaskin and Janice Chase; and brothers: Percival "Dakimo" Nurse Jr., Maurice Chase, Henry Nurse, Delvin "Ben" Nurse, Deploy "Ninjah" Nurse, Charles "Selah" Nurse and Joseph "JoJo" Nurse.
She is also survived by nieces: Shamara and Shena Nurse, Makenie and Ayanna Soverall, Christina Chase, Latoya Belgrave, Kadijah Gaskin, Talisa Nurse, Denise Alcindor, Britney Iesha Nurse, Talisa Desouza, Angelique Nurse, Dominque Nurse and Shemariah Nurse; and nephews: Ukando Soverall, Percival Nurse III, Raymond Cornelius Jr., Troy Evanson, Kadeem Gaskin, Delroy Nurse Jr. , Bruce Anthony Nurse, Icijah Nurse, Isaiah Nurse, Delvin Felix Leonard, Hector Luis Oliveri, Edwards Oldman Oliveri, Keno Papius, Kenrick Mercer, Khadeem Mercer, Sermane and Sergio Feliciano, Tyreek Peters and Tyshaun Peters.
Other survivors include great nieces and nephews too numerous to mention; aunt, Olive Christian Ford; uncles: Hugo Penn Sr., Henry "Market" Christian Sr. and Phillip Christian Sr.; brothers-in-law: Danny Derima, Bryan Kenrick Mercer, Noah Mercer and Karl Gaskin; sisters-in-law: Sherise Wright, Cherise Romney, Orneice Felix and Cheryl Nurse; special family and friends: Simmonds family, Christian family, Johnson family, Delita Walcott Johnson and family, James Hill Sr., Heather Lewis-Sweeney, Vanessa Trippett, Donna Ventura, Inter Ocean Insurance Agency, Bernice Turnbull, Halvor Hart III, Caribbean Kidney Center, Velda Hughe- Greenidge, Uralie Burke and family, Dorine Christian Irish and family and The Class of 1975; as well as other relatives and friends too numerous to mention.
The viewing will take place at 10 a.m. and the funeral service at 11 a.m. on Friday, Sept. 30, at Word of Life Ministries, Estate Work and Rest. Interment will follow at Kingshill Cemetery.
All arrangements are by James Memorial Funeral Home Inc.