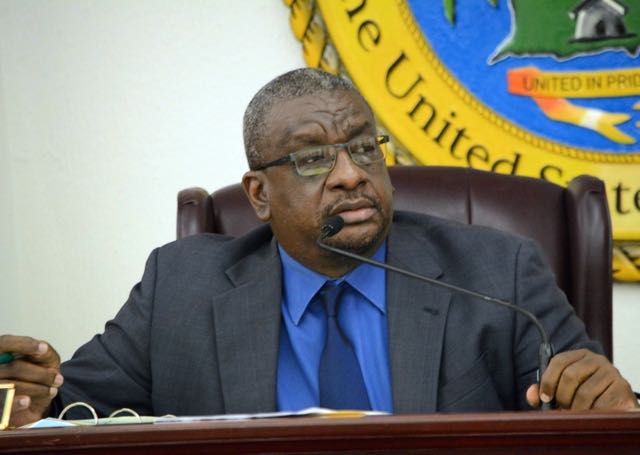 The V.I. government's Fiscal Year 2017 budget is $110 million short but the real structural deficit is about $170 million per year, Finance Commissioner Valdamier Collens told the Senate on Wednesday, while presenting the outlines of a five-year plan aimed at cutting that deficit with some new revenues and hopes of a massive increase in companies attracted to the territory's Economic Development Commission tax benefit program.
The government also proposed a massive borrowing authorization bill, which senators amended Thursday to remove most of the capital projects. The Senate ultimately approved $246 million in new borrowing.
Several senators, including Sen. Janette Millin Young, asked how the structural deficit jumped to $170 million from the lower, $110 million discussed in earlier budget testimony.
Collens said the lower number anticipates some "revenue initiatives that have not been proven" and could not be counted until they recurred and were demonstrated.
Budget Director Nellon Bowry said the current year's cash deficit was still lower than the structural budget deficit because of an array of one-time fund transfers that could not be repeated every year.
Over five years, the plan [Five Year Plan] calls for about $426 million in new borrowing. Of that, around $249 million is for capital projects throughout the territory; $147 million is working capital, which is borrowing to directly supplement the government's operating budget and another $30 million is to help the Waste Management Authority close the territory's two landfills, according to Collens.
The plan aims to increase revenues by about $716 million, through a combination of new taxes, economic development through capital expenses, and big hopes for new EDC expansion as well as $121 million in reduced expenses, for a roughly $837 million reduction in the deficit over five years, Collens said.
Economic development alone accounts for $428 million, or 51 percent of the total of $837 million, Collens said.
Sen. Nereida "Nellie" Rivera-O'Reilly asked if the total for economic development was solely from expanding the territory's tax benefit programs.
Collens said about $255 million is slated for that, based on a goal of five new EDC beneficiaries per year, each contributing $5 million per year, starting in FY18.
"I am going to be honest, I really don't have a lot of confidence in the EDA. … It has not generated the development we expected, although it is one of the better programs in the region," Rivera-O'Reilly said. "What happens if that does not pan out?" she asked.
Collens said the estimates "are very conservative, in that we are only asking them to focus on about five applicants per year." He also said there were 17 applications in the pipeline now.
The EDC program contributes tens of millions of dollars to the territory's budget every year, along with increasing employment and boosting private capital spending. In the 11 years from 1999 through 2009, EDC beneficiaries had gross sales amounting to $14.9 billion and paid $1 billion in local taxes – roughly $91 million per year on average.
In 2011 there were 98 companies in the EDC program and 84 in 2012. As of Aug. 17, 2016, the VIEDA website listed 66 tax benefit recipients, including about 15 that are long-time V.I. companies such as hotels, paving companies and shopping malls.
Several senators balked at the volume of new borrowing. Rivera-O'Reilly said she was concerned in principle but said she was reassured to see the administration had a plan to turn the trend around.
Millin Young said the plan is "too fluid" and vague and she wanted to see and review a more detailed plan.
Senate President Neville James asked what the territory's current remaining borrowing capacity is.
Andre Wright of Standard International Group, a financial advisor to the Public Finance Authority, testified the government had about $730 million in remaining debt capacity for direct, general obligation debt. That sum is considerably more than the $400 million Collens told the Senate in 2015 during hearings on the impending collapse of the Government Employee Retirement System. (See: Territory Cannot Afford Enough Pension Obligation Bonds to Save GERS in Related Links below)
Wright said the territory also had another $700 million in capacity for debt financed by federal alcohol excise taxes remitted to the territory.
On Thursday, the Legislature approved its own version of the government's borrowing bill. Its version removed the proposed capital projects for consideration later in committee, Sen. Clifford Graham said.
The bill approved Thursday included $236 million in new borrowing, with $25 million divided between the territory's two struggling public hospitals; $6 million for the VIWMA's operating expenses; $116 million for the V.I. government's operating expenses, to balance the FY17 budget; and $100 million for what Graham termed a "down payment" on the $2 billion-plus GERS unfunded liability. The retirement system is currently liquidating about $100 million from its trust fund per year and is projected to liquidate its entire trust fund by 2024 or so.
"I am in support of borrowing the monies so that we can have a balanced budget for Fiscal Year 2017," James said. "I don't believe that anyone likes to borrow. However, we will all like to have the capacity to borrow. It is fortunate that the government has the ability to access this capitol."
Millin Young was the sole no vote on the borrowing bill. All senators were present during Thursday's session.