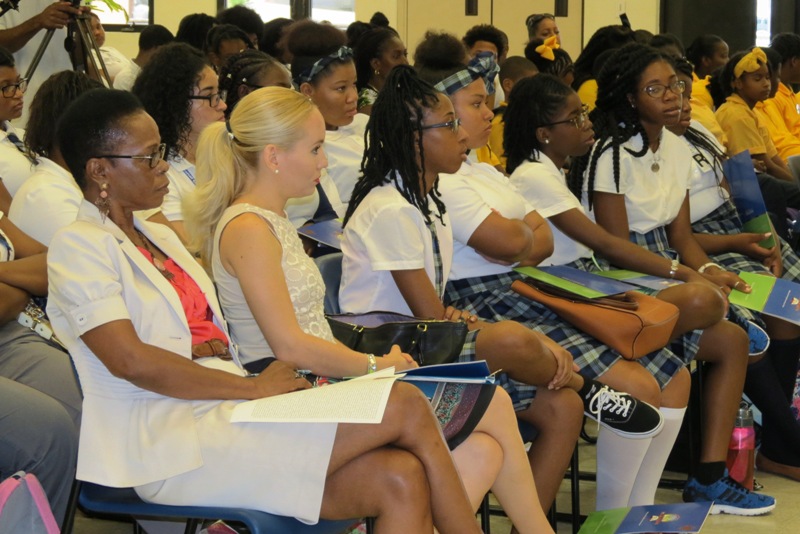 The Virgin Islands Department of Education (VIDOE), Division of V. I. Cultural Education, kicked off Hispanic Heritage Month 2016 by sponsoring the first Hispanic Heritage Month Forum, Thursday, Sept. 15, at UVI's Great Hall on St. Croix. Students from all secondary public schools on the island came out to hear inspiring messages by Hispanic women leaders from the local community and Puerto Rico.
Panelists Aymee Santana, Evelyn Felix, Vera Falu, V.I. Supreme Court Judge Maria Cabret and visiting education professors at the University of Puerto Rico stressed the importance of embracing heritage to the selected students, who were mostly of Spanish backgrounds. Generally, the presenters encouraged students to learn and embrace the Spanish language although living in an English-speaking community.
Santana, the former executive assistant to the director of motor vehicles and now an administrator at the Ruby Rouss Complex in Water Gut Christiansted, told students about her experience growing up on St. Croix after her parents relocated to the island when she was a young child. She explained that her parents strongly urged her and her siblings to speak Spanish at home by setting an example. "It's an advantage to be bilingual," she said of her ability to be fluent in two languages. "It opens your opportunities in employment."
Panelist Pena-Felix, after several stints in the Superior Court of the Virgin Islands and the Legislature of the Virgin Islands, is now working at the Department of Planning and Natural Resources, Division of Libraries, Archives and Museums where she runs the operations of the Fort Frederik Museum in downtown Frederiksted. "One of the things my mother instilled in all her children was the importance of being fluent in Spanish–writing it, reading it and translating from English to Spanish," she said.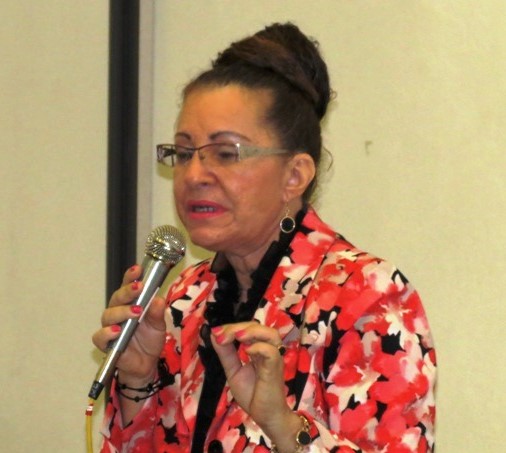 Former V.I. Commissioner of Licensing and Consumer Affairs Vera Falu came to St. Croix from Puerto Rico as a young adult to work as a health professional on a two-year contract at the former Charles H. Harwood Memorial Hospital. She did not speak any English at the time.
"Now, after 45 years, I am still here because I embrace the Crucian culture, although we didn't speak English at home," Falu said. And, making an important distinction, she added, "I am not Hispanic. I am Puerto Rican. Soy Borricua. Hispanic people come from Latin America. Be proud of who you are. Not everybody can be born in the same place. We all are Caribbean people."
In explaining how she built a strong foundation in Hispanic culture at home, Judge Maria Cabret said, "English was to be spoken outside the home. Unless there was someone who was visiting and couldn't understand Spanish, the language that we had to speak was Spanish."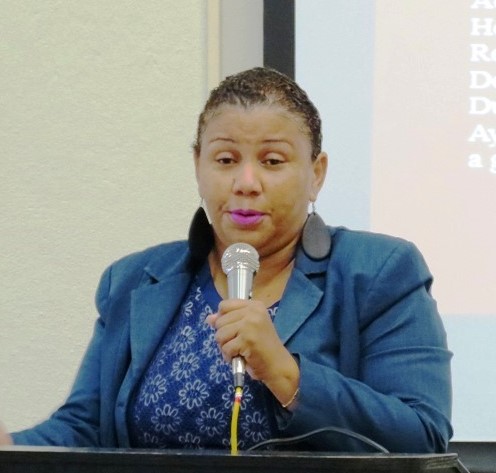 According to Judge Cabret, culture is what makes people different. "Our symbols and history are what set us apart from other people and make us interesting," she said. "One of the greatest lessons you can get from participating in this educational panel is to learn the (Hispanic) culture and embrace it."
Professor Maria Ojeda of the University of Puerto Rico in her Power Point illustration challenged the students "to be weird, be random and be who you are because you never know who would love the person you are hiding. Real women are not perfect, and perfect women are not real."
Beginning as a schoolteacher, Dr. Ojeda went on to be a college professor for good reasons. "I am at a university teaching prospective teachers to become better teachers for new generations like you are because you are the new generation for the world," she said.
Ojeda left her recipe for success with the students, which includes 10 cups of high expectations, 20 cups of research, three pounds of knowledge, eight spoons of diversification, a dash of reality, five cups of mentorship and 12 ounces of travel.
Following the presentation by the speakers, the students questioned the panelists in an afternoon session. Students were also informed of an essay competition to commemorate Hispanic Heritage Month, which is being celebrated Sept. 15 through Oct. 15.
Prof. Alscess Lewis Brown of UVI moderated the forum for the V. I. Cultural Education Division, which is headed by Valrica Bryson, who speaks several languages including Spanish.