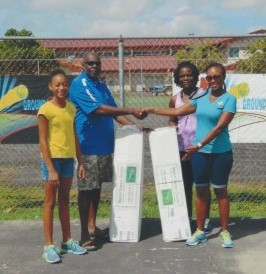 Ground Strokes Tennis Club Inc. has donated new tennis nets to the St. Croix Educational Complex (SCEC), Sept. 10.
Natasha Lewis-Flynn, club manager, presented two nets to SCEC officials to replace nets that had numerous tears in them.
"It's great to be able to give back to the school in our own special way," said Lewis-Flynn.
SCEC has been home to the tennis club since its inception, providing a safe training environment for its young athletes to learn the game of tennis.
"We hope these nets alleviate a small burden on the school's athletic program and fosters the continued growth of the sport amongst the students and all that benefit from use of the tennis courts," said Lewis-Flynn.
Ground Strokes Tennis Club Inc. is a non-profit organization formed to make tennis available to every youth who wants to play while teaching in a fun, learning environment and stressing the importance of good sportsmanship and fair play.
For more information, contact Kirk Rojas at groundstrokestennis@gmail.com.