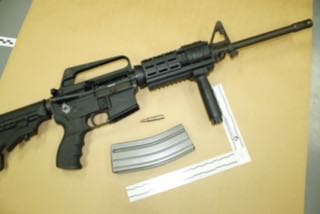 The V.I. Police Department confiscated a small arsenal of weapons Saturday while keeping busy with incidents across St. Croix.
At 8:38 p.m. Saturday, officers were dispatched to the LBJ Gardens in Christiansted. At the scene, they found a silver sedan with no license plates. Preliminary investigation they learned that the vehicle had been stolen the previous night.
The officers canvassed an abandon building in housing community and discovered three Glock handguns, an M-4 assault rifle, a bulletproof vest, fully loaded magazines and live rounds.
– Also Saturday, police arrested 19-year-old Delita Bates and charged her in a fight with a female minor. The female minor was charged with disturbance of the peace by fighting. The minor female was detained and turned over to juvenile detention center. The altercation took place at the Central High School gym during a basketball event.
– Officers also arrested Fernando Crispin , 62, of Estate Profit on Saturday and charged him with driving under the influence and negligent driving after a vehicle he was driving collided with another vehicle in the vicinity of Central High School. Crispin was arrested after refusing a sobriety test.
The VIPD's Criminal Investigations Bureau asks the community for information in solving crime in the territory. Those with information can call 340-778-2211 on St. Croix or 340-774-2211 on St. Thomas, or the anonymous tips service, Crime Stoppers VI, at 1-800-222-8477.