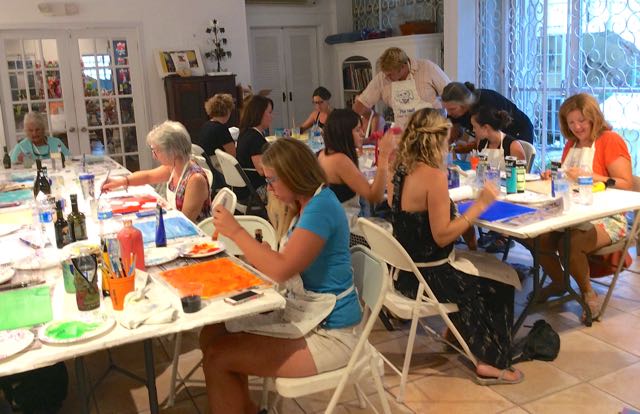 At The Blue Mutt shop and gallery in Christiansted, groups of budding artists are unleashing creativity in art classes taught by well-known local artists.
Business partners and friends Asha Colianni and Laura Ballard offer a setting where people can have fun immersing themselves in art while learning techniques from dozens of artists.
"Like-minded people come together here to inspire and do creative things together," said Laura Ballard, also an artist. "The real attraction is to be with friends and others to learn something new and have fun doing it."
Participants have painted designs on wine glasses and umbrellas and they have created sculptures, woven baskets and painted birdhouses to name a few of the projects. Ballard said people don't have to be experts to paint simple patterns and designs on rocks or glass.
"Painted rocks and glass painting is nonthreatening, affordable and fun," Ballard said.
Ballard said some students take the same class three and four times to gain more skills. "And some have launched into a fun new hobby after taking classes here," Ballard added.
Art student Carole Dastugue said when she started taking the different art classes at the Blue Mutt she never imagined the impact it would have on her.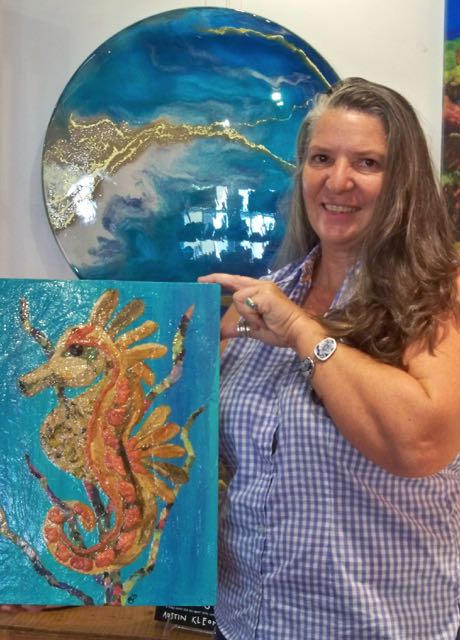 "It got me motivated to take art courses at UVI," Dastugue said. "The Blue Mutt is the perfect outing for people wanting to express themselves and to meet other people interested in art like yourself. Without my classes I would not be practicing as much as I do now. I owe it all to the first classes I took to get my artistic juices flowing again."
Colianni said she believes the classes are therapy for the soul, taking cares and worries away.
"Art class is a relaxing release from the stuff that fills our heads every day," Colianni said. "We can escape in another world in art class."
Isabelle Picard, a well-known local artist, teaches classes on the basics of her whimsical style.
Picard will be teaching a class on paisley design Oct.15 and 22.
Ballard also has class coming up on paper collages.
Nov. 12 there will be a wine glass painting fundraiser for cats housed at the Animal Welfare Center.
Artists who have held classes include Jane Akin, Betsey Campen, Lucien Downes, Mandy Thody, Larry Safady, Laurie Ingersoll, Alexis Levine and Cathy Booth.
Colianni and Ballard, friends and animal lovers who were on the board of directors at St. Croix Animal Welfare Center together, started operating the store selling pet supplies and books in November 2012. A portion of proceeds goes to numerous animal rescue and spay and neuter clinics on the island.
Colianni and Ballard see the shop as a place for expanding and showcasing all types of art including music and literature.
The house band, Santa Cruz Blues, plays for special events at the shop. Local author Emmy Thomas conducts a book club once a month focusing on Caribbean authors.
Ballard said The Blue Mutt is a great all-purpose space.
The Artist Guild of St. Croix is holding an open show for artists to be premiered at and hosted by the Blue Mutt gallery on the first Art Walk Thursday of the season, Nov.17. The deadline for registering artwork is Nov. 1. The theme is "Island Attitude."
Ballard said this is a call for new and emerging artists and to teach them how to get their artwork ready for market.
The Blue Mutt is located at 5 Company Street. There are classes to suit every level and budget. Classes range from $20 and up depending on if it is a multi-day project or workshop. They will customize art projects for children's birthday parties and ladies night out. To get more information and for store hours call 340-643-7203, visit their Facebook page or send an email to bluemuttstx@gmail.com.