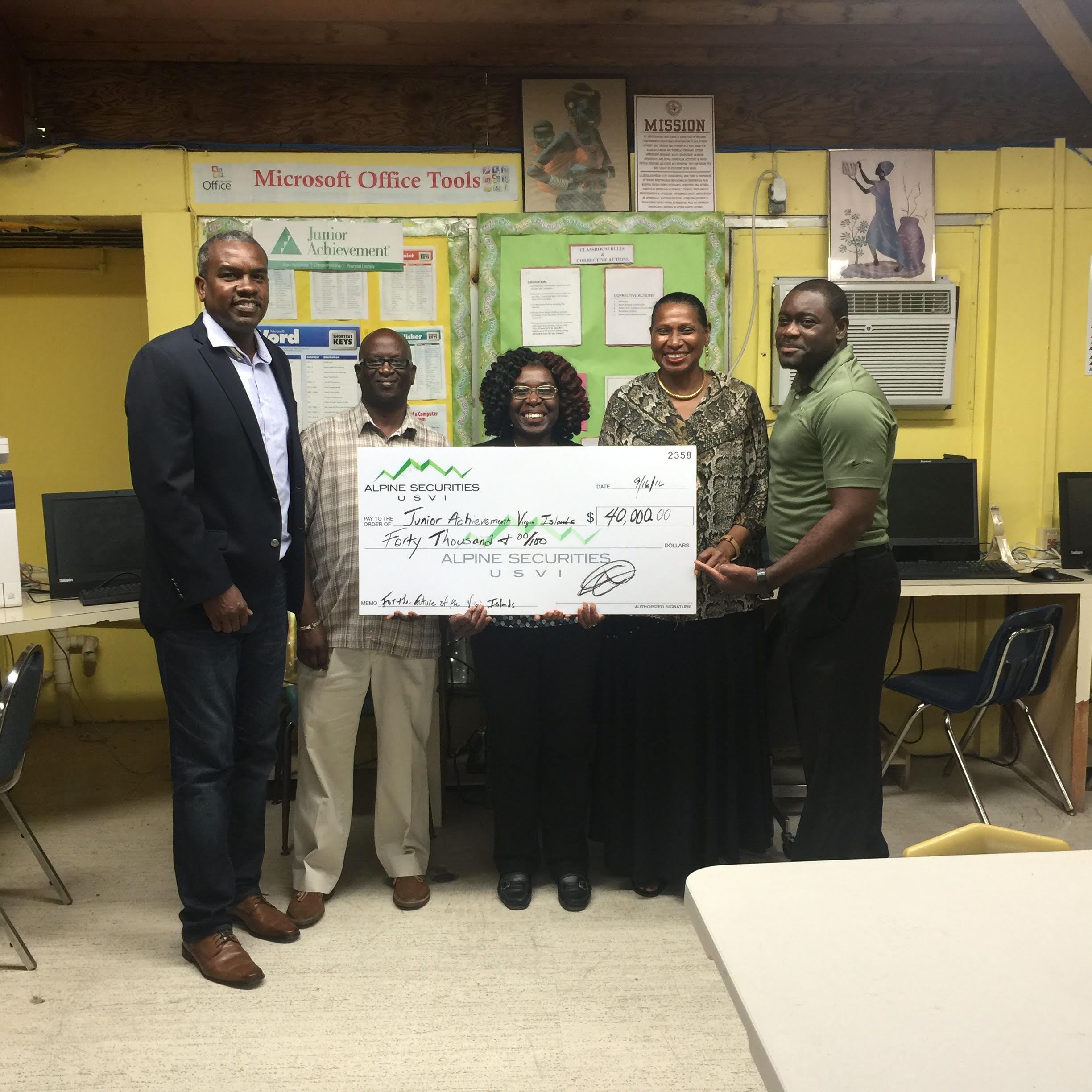 Officials from Alpine Securities LLC, a local EDC firm, donated $40,000 to the Junior Achievement Company Program on Friday, Sept. 16, at St. Croix Central High School. These funds will be dedicated to exposing high school students to the world of finance and entrepreneurship.
Students in this program partner with corporate mentors and team members from schools within the territory to create and run their own small businesses. From start-up to liquidation, these students experience every step in the entrepreneurial process in a hands-on way while being guided by business professionals. Mentors volunteer from firms across the territory, including Alpine Securities, Scotia Bank, Innovative and the Government of the Virgin Islands.
The Company Program culminates with an annual competition that allows the team to compete territorially. The Regional Competition brings together five student teams from both districts to compete in an event, where they are judged on their company's success as well as their personal development as entrepreneurs and business leaders. These funds will ensure that the students are able to attend the international competition that will be held in Mexico City this December.
Jason Charles, Alpine's director of corporate affairs and giving, said, "Alpine has made an annual commitment to ensure that these students get the exposure that they need and the skills to make them successful. Alpine's owner, Mr. Charles Kim, serves on the Regional Board for Junior Achievement and strives to make sure that we are contributing to the success of students on a regional level, but especially in our local market. I have been a JA volunteer for years and I'm constantly reminded of the payoff as I've seen former students finish college and join the workforce, not only as employees but also as employers."
"We would like to thank Mr. Kim, Jason Charles and the entire Alpine family for their continued support," said Albert Bryan Jr., executive director of Junior Achievement Virgin Islands. "Community partners who put their commitment not only in the form of checks but also give their time and effort to ensure that our students are successful."
About Junior Achievement of the Virgin Islands
Junior Achievement is the world's largest organization dedicated to empowering students to own their economic success by giving them the knowledge, skills and confidence necessary to dream big and reach their full potential.
Through a dedicated volunteer network, Junior Achievement provides in-school and after-school programs for students that focus on three key content areas: work readiness, entrepreneurship and financial literacy. Locally, over 1,500 volunteers reach 18,000 students with quality education programs. In addition, 118 individual area operations reach more than four million students in the United States.
For more information, visit http://jausvi.org.