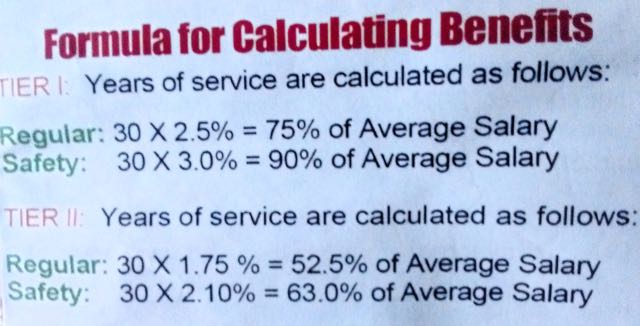 "GERS is not cutting retiree's annuities," Chairman Wilbur Callender said to begin the Government Employees Retirement System board of trustees meeting Thursday. However, his statement did not quash the fears of some retirees.
Two recently retired firefighters spoke to the board, citing a new calculation that would make their annuity checks smaller than anticipated.
Davidson Charlemagne spoke on St. Croix. He carried with him a letter from GERS asking that he agree to a rate of 2.5 percent instead of 3 percent.
The rate is the number multiplied by years of service to determine what percentage of his or her annual salary a retiree will receive. Charlemagne had 21 years of service so, instead of receiving 63 percent of his salary, he would receive 52.5 percent.
"To read this letter was very disturbing," Charlemagne said. The letter stated the reason for the reduction was that his employer had not made sufficient contributions to GERS. Charlemagne asked the board, "Why do we have to pay for someone else's mistake."
GERS Administrator Austin Nibbs recommended that Charlemagne take the 2.5 percent right now. The letter said when the employer pays in full, Charlemagne's annuity would be recalculated at 3 percent.
Charlemagne responded, "You are saying take the cut and hope for the best."
As Charlemagne left the conference room he told the Source, "I am not going to take that cut." He noted that there was nothing in the letter about retroactive pay when his employer does make its payments to GERS.
Thirty-two other government employees are reportedly in the same boat as Charlemagne. Ian Williams, one of them, spoke to board members on St. Thomas. The meeting was video conferenced.
Williams said, "We should not have to live like beggars after working these jobs." He said that the high cost of living on the islands is a special burden for retirees.
Williams said workers like him look at what retirement benefits are and then make a decision, "I could live with that." With a cut in the multiplier from 3 percent to 2.5 percent, he said, "I am caught in a trap."
The possibilities of cuts in annuities came up again at the end of the meeting when the floor was open to the public. Callender said that some people might have misheard what he has been saying.
Trustee Carol Callwood said, after the Treasurer's report, that GERS was paying out monthly twice as much as it was taking in contributions.
Callender said that at that rate GERS would be broke by 2023 and at that time it might be necessary to cut annuities by 50 percent. He emphasized that no such plan or action had been taken to that effect presently.
In Nibbs' report he said that 184 government employees had filed for retirement in 2016 and, so far, 18 have received their initial retirement checks. When asked why only 10 percent of this year's retirees have received checks, he answered that it was a result of GERS not receiving the required employers' contributions.
In other matters the board approved guaranteeing a loan to the corporation that runs Carambola for $1.4 million for renovations. The renovations include landscaping, improving public areas, interior room design, lighting and upgrading one of its restaurants. The board also approved the Havensight Mall operation budget.
The board discussed details concerning a financial summit Monday and Tuesday of next week. Members of the Senate and the governor have been invited to the summit making an effort to find solutions to GERS's financial problems.