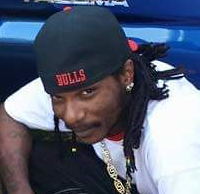 Suhmeid J. Morris, also known as "Medi," "Zoom" or "Bones," of Estate La Vallee died on Monday, Aug. 22. He was 32 years old.
He was preceded in death by his father, Ernest "Bones" Morris Sr.; and grandmother, Evadney Smith.
He is survived by his companion, Ann Webb; mother, Rufina R. Smith; grandparent, Henry Smith Sr.; stepdaughter, Tatyana Camacho; sisters: Nia Taylor-Loyd, Prudence Morris-Dance, Michelle Morris-Martin, Dr. Patricia T. Morris, Radiant Morris, Jerrilyn Morris and Nikiesha Morris; brothers: Arthur Miller, David Taylor Jr., O'Neal Morris, Ernest Morris Jr., Shern Morris and Dave Kirwan; and nieces: Pwania Taylor, D'naya Taylor, Laina Taylor, Alayjah Miller, Latne LeCointe, Shanelle Miller, Jahnailah Morris, Jewel Francis-Walker, J'nee Armstrong, Marsha Cherry, Natalie Martin, Danielle Jones and Iyanna Slater.
He is also survived by nephews: Malachi Taylor, Kowasi Ashby, Shaquille Urgent, Ronald Carter Jr., Raymond C. Hewlett, Glenmore Martin, Deray Smithen, Elisha Slater and Torrence Slater; and aunts: Jordynn Cummings, Edna Gilchrist, Elinore Smith, Renee Lawrence, Yvonne Lewis, Norma Samuels, Kwanza Frazier, Ilma Southerland and Joan Morris-Felix.
Other survivors include uncles: Wilfred Smith, Louis Smith Sr., Leander Smith Sr., Bennett Smith and Lornel Dawson; brothers-in-law: Papino Loyd Sr. and Luis Ferrer; sister-in-law, Diane Lindsy-Taylor; godparents: Allison Hall and Simeon Cobb; special friends: Peter Mitchell, Shepard Emile, Rasheed Emmanuel and Argeni Martinez; as well as other relatives and friends too numerous to mention.
There will be a viewing at 9:30 a.m. followed by a funeral service at 10:30 a.m. on Friday, Sept. 16, at St. Patrick's Catholic Church. Interment will be at Kingshill Cemetery.
All arrangements are by James Memorial Funeral Home Inc.