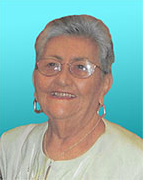 Elena Bermudez Ovesen died on Sept. 2 at her home in Charlotte, N.C. She was born on Feb. 20, 1924, in Vieques, P.R. to Santana and Felicita Bermudez.
She is survived by her daughter, Hilma Ovesen Booth; son, Anthony Francis; brother, Juan Bermudez; grandchildren: Michelle Andrews and Margaret Acosta; nephews: Benito Torres, Marcos Morales, Juan Carlos Bermudez and Jose Santana Bermudez; nieces: Rosa Bermudez, Maria Elena Bermudez and Maria Bermudez; grandson-in-law, Juan C. Acosta Jr.; great-grandchildren: Chantel, Damari, Tiffany, Latoya, and Jose R. Acosta; great-great-grandchildren: Lei'Lani, Lei'La, Lei'Zion, Faisal, Kenia-Lee, Malachi and Ameri; sisters-in-law: Ana Luz Gabino and Gloria Kelsey; and brothers-in-law: Peter and Paul Ovesen.
She is also survived by daughter-in-law, Joan Hartzog; close friends: Maria Grigg, Carmen Rivera, Vida Chinnery, Julia Larsen and Delia Garcia; and other family members: Ana Richards, Marrissa Torres, Benito Torres Jr., Marcos Ivan, David Morales, Julio Cordero, Gerville Larsen, Karole Ovesen-McGregor, Patricia Gabino, Fred and Debra Barron, Josephine Ovesen, Paula and John Logan and family, Diana Torres, Mary Bermudez, Georgia M. Bermudez, Georgina T. Bermudez, Austin Andrews, the Ovesen and Kelsey (N.Y.) families, Carl and Arleen Rice and family, Carl Andrews Jr., the Andrews family and Doreen Pemberton.
Other survivors include friends: Janet Francis, Lucille Tompkins, Vivian Furet, Jean and Jon Larsen, Deborah and Roy Rodgers, Pauline and Douglas Canton Jr., Jean Canton, Leatrice Garcia, Yvonne Christopher, Juanita Woods, Errol Cromwell, Ann Williams, Marc Biggs, Modesto Belardo, Carmen Simmonds, Robert Soto, Verna and Ray Clarke, Avernell Bergan, Norva Madden, Cynthia and Jerry McNeil (N.C.), Joyce Rohlsen, Sandra Pride (N.C.), Phyllis Fergusen (N.C.), Annette Watson and family (N.C.); as well as other relatives and friends too numerous to mention.
Mrs. Ovesen's celebration of life will be held on Friday, Sept. 16, at the Lord God of Sabaoth Lutheran Church in Christiansted, St. Croix. There will be a viewing at 10 a.m. and a funeral service at 11 a.m. Interment will immediately follow the service at Frederiksted Cemetery.
Arrangements are being made by James Memorial Funeral Home Inc.