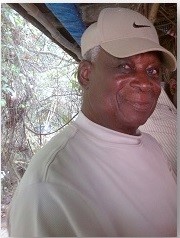 Clement Albert Christian, also known as "Peps" or "Steady," of Estate Grove Place died on Sept. 6. He was 86 years old.
He was preceded in death by his mother, Veronica George; father, Albert Christian; and brothers: Gerard Christian and Joseph Christian.
He is survived by his daughters: Rita Lawson, Carol Christian-Williams, Joyce Caines and Angela T. Christian; sons: John Christian and Donald Christian; grandchildren: Maya Christian, Kenneth Lawson, Akilah Christian, Shanika Christian, Omisha Williams, M'Kaila Caines and Mateo Martin; brothers: Peter Christian, Augustin Christian, Alphonso Christian and Bernard Christian; and nieces: Beverly Plaskett, Marie Christian, Marcia Christian, Katherine Christian, Veronica Christian, Lydia Cabret, Theresa Walton, Juanita Christian, Kathy Joy Christian and Iris Christian.
He is also survived by nephews: Dr. Michael Christian, Gerard Christian Jr., John I. Christian, Augustine Christian and Bernard Christian Jr.; sons-in-law: Kenneth Lawson Sr., Dwight Caines and Norman Williams Jr.; brothers-in-law: Christel Byron and Glenworth Byron; sisters-in-law: Inez Williams, Zula Byron, Florabel Miller, Agneta Bailey, Arlene Hopkins and Maria Christian; and godchildren: Sharon Williams, Bernice Wheatley and Raymond Williams.
Other survivors include special friends: Henry Lake, Calvin and Carlene Belle, Adrian Martin, the Domino Club family, Lisa Brown-Williams, Joe Brown, Michael Dubois Sr., and Sonia Jacobs-Dowe and family; cousins and other relatives: the Mc Alpin, Christian, Edney, Baird, Byron, Miller, Williams, Bailey and Francis families; as well as other relatives and friends too numerous to mention.
A viewing will take place at 9 a.m. and a funeral service at 10 a.m. on Friday, Sept. 16, at St. Joseph Catholic Church. Interment will follow at Kingshill Cemetery Veterans Section.
All arrangements are by James Memorial Funeral Home Inc.