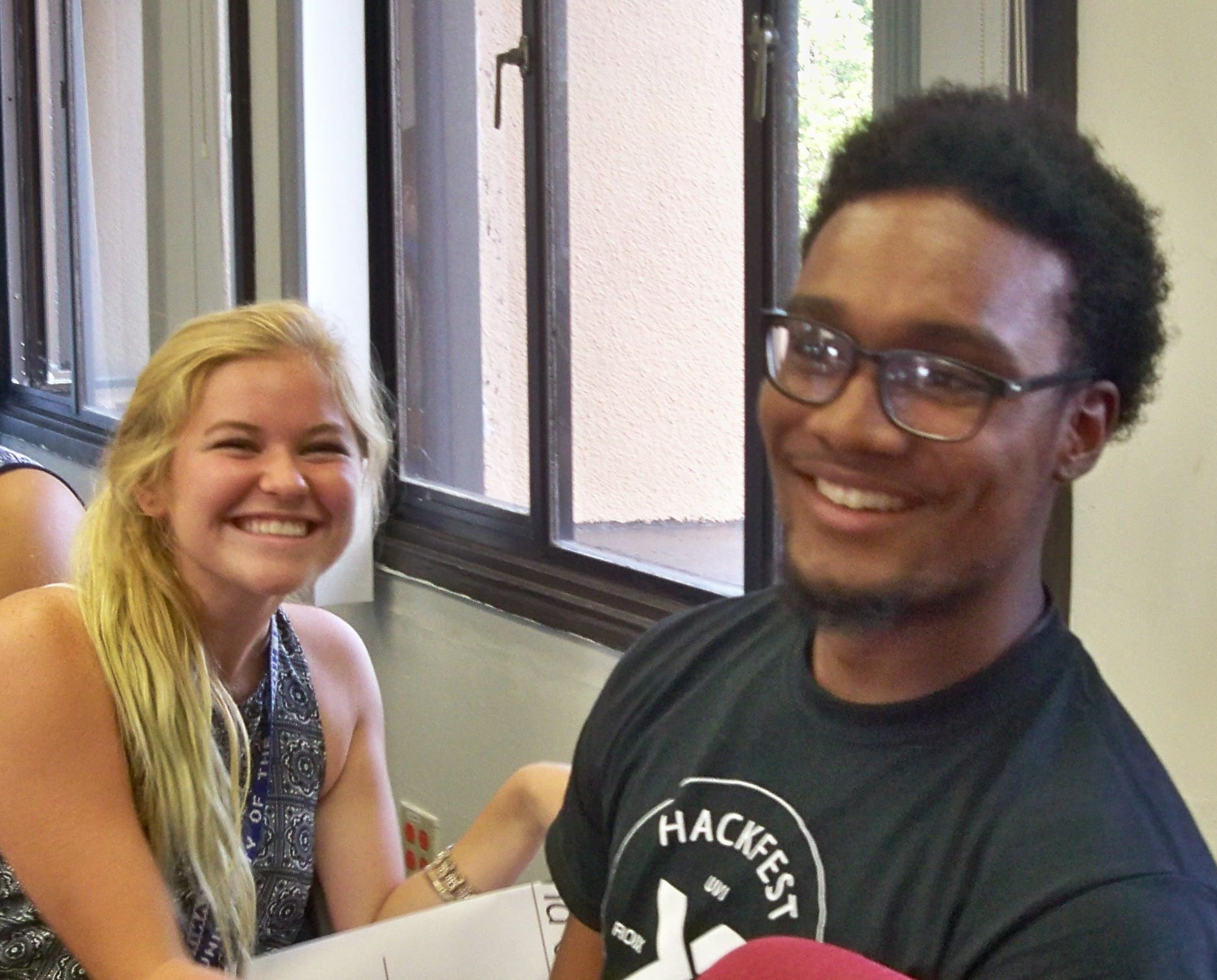 Amali Krigger and MacKenzie Gross saw a problem and came up a solution – an app would provide healthy food alternatives for those who wanted to stick to their cultural tastes.
The idea earned the pair of University of the Virgin Islands students a $500 cash prize at UVI's 2016 Hackathon.
The Hackathon started Friday afternoon and on Saturday afternoon, winners were announced in the St. Croix campus library. This year, the third year for the Hackathon, had the theme Health and Wellness.
A dozen students met Friday afternoon, broke into teams and brainstormed about problems concerning health and wellness and potential solutions. The teams were then free to work on designing innovative solutions during the evening and Saturday morning.
Tim Faley, UVI special assistant to the president for entrepreneurial initiatives, said the students were so involved and enjoying the project they didn't want to quit working Friday night.
Other winners included Terrance Emmanuel, Leanne Morancie and Geron Richards for the most innovative hack and Aliaa Taylor, Kaheem Thomas, Kalunda Cuffy, and Tijani Shabaze for most impactful hack. Each of those teams received $100.
The competition was open to all UVI students.
Leon Hughes, founder and CEO of NEARiX, a key sponsor of the event, said while handing out the rewards, "We hope you have done something here that has a positive effect on the rest of your time here."
Krigger and Gross said they plan to follow up on developing their app. Gross, a senior majoring in computer science, said, "It wouldn't make sense to set it aside now." They will have the opportunity to get some help moving forward. Hughes presented each of them with a certificate to get 40 hours mentoring at NEARiX. He said the certificates were worth about $2,500 each. Krigger, a freshman majoring in business, said the pair decided to focus on food because, even though exercise is important, what people eat is even more important.
"It's really exciting that we won," Krigger said. "This feels so rewarding."
Faley said the project flows into the next program, which will begin in October and run for three months. Students will work in stages to figure out a problem, develop a prototype, product and business.
"It was great that NEARiX provided all the coaching, mentoring and professional guidance," Faley said. "It was like getting 40 hours of consulting for free."
He added they couldn't do it without the help of Hughes and his three employees who helped the students.
There will be a Hackathon on UVI's St. Thomas campus this Friday and Saturday.
Along with NEARiX, sponsors included the student-run innovation and entrepreneurship club, UVI's RT Park and VI EPSCoR. UVIDEA helped organize it.