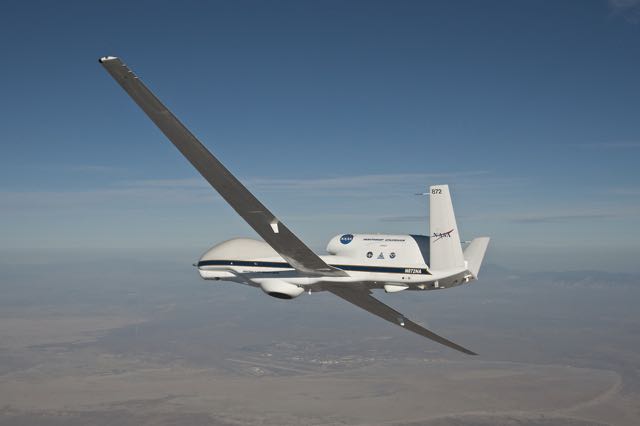 A regular Source column, Undercurrents explores issues, ideas and events developing beneath the surface in the Virgin Islands community.
If you've spent more than a couple of Septembers clicking on internet weather maps, squinting at satellite imagery, making wild guesses about likely tracks, tuning into local radio reports and monitoring the Weather Channel, then you know hurricane prediction is a tricky business.
Forecasters rely on a wide range of tools to gather data, from the humble weather buoy to the orbiting satellite and, until recently, the ultimate close-up view was possible only by sending a daring crew aboard a hurricane hunter airplane into the eye of the storm.
Now there's a specially equipped unmanned aircraft that can fly above a storm and gather detailed information about how strong it is and where it's headed.
NASA's Global Hawk is the centerpiece of a collaboration between the National Aeronautics and Space Administration and the National Oceanic and Atmospheric Administration to supplement existing data collection on storms.
This is only the second storm season that the experimental plane has been used but it already looks more than promising. Two weeks ago, it gave forecasters sufficient information to briefly upgrade a weather system named Gaston from tropical storm to hurricane status as it moved closer to the U.S. mainland. The system had breezed near the Virgin Islands as an unnamed invest, or tropical wave, a few days earlier.
Based on the Global Hawk's performance even before Gaston, NOAA was hopeful about the potential ramifications for monitoring the intensity of storms.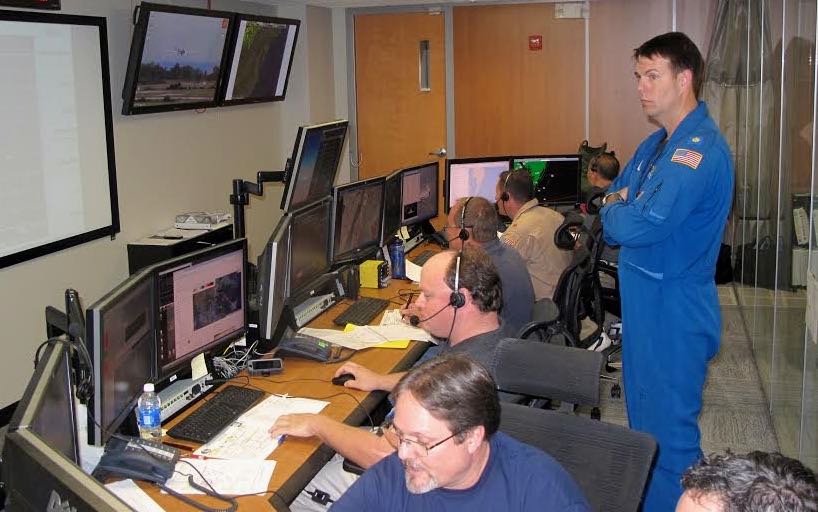 In an interview with the Source, Robbie Hood, director for the program for NOAA, said the science of tracking storms and predicting where they will land has been improving between 1 and 2 percent each year for many years. But knowledge of shifts in the strength of a storm has been lagging behind.
"One of the big problems (of forecasting) is intensity," she said. With the data coming from Global Hawk, "there's some level of improvement … It's not a slam dunk but we're pretty excited."
The plane can fly at 60,000 feet – that's 20,000 feet higher than a manned aircraft – giving it a wider view of a storm. It can stay with a system much longer too, up to 24 hours.
"It can fly over the same storm two or three days in a row," Hood said. "You can stay with it …You can actually see how it develops."
Various instruments aboard the aircraft provide a detailed look at the inner workings of a storm. Radar developed by NASA measures wind speed and precipitation; a microwave sounder from NASA's jet propulsion laboratory makes vertical profiles of temperature and humidity; and a NASA lighting system measures the electrical field of thunderstorms.
Perhaps the most novel real-time data collection comes via small instruments known as dropsondes. Developed by NOAA, these are cylinder shaped small instruments – picture the inside of a paper towel roll, Hood advised – that the plane releases into the weather system.
"They fall into the ocean and disintegrate," Hood said.
But on the way down to the ocean surface, they measure temperature, pressure, wind speed and direction and transmit this data so it can be used by the National Hurricane Center.
In a press release, NOAA said the Global Hawk released 84 dropsondes into Gaston during an Aug. 25 flight.
"It's like having an MRI or a cat scan of a storm," Hood said, adding that forecasters can use the dropsonde profile together with information gathered by more established sources, such as ships, weather balloons, ocean buoys and satellites, to assess a storm. "It takes a lot of data for us to do our jobs."
There is also some thinking that the unmanned hurricane hunter may serve as a backup for weather satellites if, in the future, a satellite were compromised.
The Global Hawk divides its time between the Pacific and the Atlantic coasts and is currently operating out of Virginia. NOAA negotiates with other countries in the region to fly in their air space. It takes about two days to actually ready the aircraft, make any necessary notifications regarding air space and get it aloft, Hood said. A team of scientists and forecasters make the decision when to use it.
"That's actually the most fun part," Hood said. The team has been put on alert from Aug. 1 through Sept. 30, typically the height of the Atlantic hurricane season, though officially it runs from June 1 to Nov. 30. Every day there is a conference call and forecasters tell NOAA if and where they'd like the Global Hawk to fly.
The unmanned hurricane hunter project is in large part a response to Hurricane Sandy in 2012, which affected one of the largest areas on the U.S. mainland in history, as well as causing widespread damage to a number of islands. By some accounts the largest storm on record, it was also one of the most costly.
Congress appropriated the money and the SHOUT (the Sensing Hazards with Operational Unmanned Technology) program was created. It's a three-year project, scheduled to run to 2017.