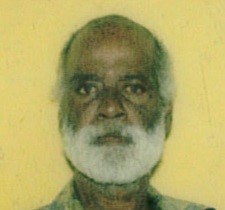 Leon A. Petersen Sr., also known as "Babsie," of Candido Guadalupe Terrace died on Aug. 29. He was 69 years old.
He was preceded in death by his mother, Helen Petersen Hall; grandparents: Clarence Percival Petersen and Amelia Harvey; sister, Leatrice Hall; grandchild, Steaven Rosario; and brothers: Lionel Williams and Lloyd Hall.
He is survived by his daughters: Connie Petersen, Ruportha Petersen, Patricia Petersen and Barbara Petersen; sons: Samuel Petersen and Leon Petersen Jr.; grandchildren: Sylvester John, Letisha Jenkins, Kesean Rippy and Taliyah Rippy; sisters: Rita Hall Greenidge (Calif.), Anna Hall, Denise Albert (N.J.) and Doris Dailey Sutton; brothers: Roy and Joseph Melbourne Clarke, and Daniel Dailey Jr.; aunt, Ina Petersen Sylvester; and brother-in-law, Dale Albert (N.Y.).
He is also survived by special friends: Daniel Dailey and family, Lorraine Cartier, Donna Hendrick, Luz M. Bermudez, Benita Bermudez, Sade M. Powell, Luis Tony Rodriguez, Efrain Ramos, Sitnah Yarwood, the Gallowsbay family, Adolfo Lopez, Roy Williams, the Hendricks family, the Roberts family, the Cartier family, Bernard Brun, and Leroy Danielson and family; cousins and other relatives: the Petersen, Francis, Harvey, Sealey and Hansen families; as well as other relatives and friends too numerous to mention.
A viewing will take place at 9 a.m. followed by a funeral service at 10 a.m. on Friday, Sept. 9, at James Memorial Funeral Home Chapel. Interment will be at Kingshill Cemetery.
All arrangements are by James Memorial Funeral Home Inc.