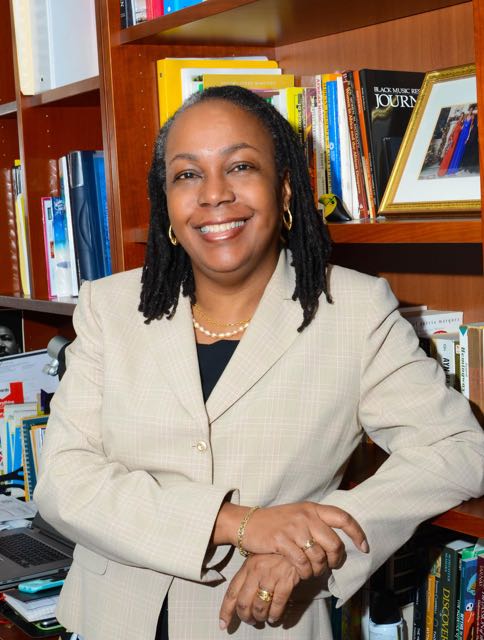 Jewels of the Virgin Isles is a monthly feature series profiling Virgin Islanders in the diaspora who are excelling in their respective fields and/or positively representing the USVI abroad.
One of the gifts of being a writer is to be able to tell stories about people, cultures and communities, and to capture the essence of life with words. As a poet and journalist, Monique Clendinen Watson has turned this gift into a life-long career and is now embarking on a new phase of her life with a business venture that brings together her passions for storytelling, media strategy and communications.
Clendinen Watson launched her career as a reporter for the St. Croix Avis newspaper and built a reputation in the U.S. Virgin Islands as a skilled public relations specialist in politics and business after graduating from college. She is an avid reader who has been writing since her childhood. "I think [my love for writing] started with reading. My sister and I would act out the books that we read and make up our own stories. I think that the "aha" moment for me, that I could do this, was in junior high, when I started being chosen to read and write for events at school."
Born on St. Thomas and raised primarily on St. Croix, Clendinen Watson identifies herself as a Crucian, with the understanding that the Virgin Islands is one community and one people. She attended St. Mary's School and is an alumna of St. Joseph's High school, both on St. Croix. She would later obtain a bachelor's degree in communications from the University of Detroit-Mercy, and a master's degree in humanities from California State University, Dominguez Hills.
Her parents, Armelle Ferdinand and James "Belto" Clendinen, both educators, instilled a love for the islands in Clendinen Watson and her siblings that permeates everything she does to this day. "I love all three islands, love people from all three islands, have family and friends on all three islands. I strongly believe that our divisions are self-imposed and we need to unify as one people in order to move forward," says Clendinen Watson.
As a proud Virgin Islander, Clendinen Watson has embraced the heritage of her home by learning the history and traditions that remind her of how strong, courageous and innovative Virgin Islanders truly are. From studying and performing the traditional art form of Cariso (storytelling and social commentary accompanied by song and drumming) with the late culture-bearer Leona Watson, to working within the government to implement change, Clendinen Watson has embraced all that the Virgin Islands has to offer.
"I love everything about the Virgin Islands, from the natural beauty to the people. I love that we are constantly evolving and that we know how to make lemonade out of lemons. I like that we are fiercely proud of who we are and where we are from. I like that we do not give up even when facing very dark clouds."
Her passion for her craft, her love for the Virgin Islands and her affinity for politics have taken her from the halls of the Virgin Islands Legislature as a public relations specialist to the halls of the U.S. Congress as communications director, and later, chief of staff for former Delegate Donna Christensen. After a remarkable career in public service, Clendinen Watson has now returned to entrepreneurship, recently launching Blue Gaulin Media Strategies LLC, a public relations, social media and media training firm that serves small businesses, nonprofits and government agencies in the Washington, D.C., metro area and the U.S. Virgin Islands.
"Currently I am building a business in the new media environment. Starting a business now is different from the PR business I started in 1989. Although the communication is the same, our modes of delivery are different and people still need guidance using them. People tend to think that only young people can [use technology], but I think it's for everyone."
"I have always used my talents, gifts and skills to serve my community – as a journalist, as a public relations consultant, and as part of former Congresswoman Donna Christensen's team – for 18 years. Now, I would like to continue to use my skills to tell the V.I. story and to find new ways to develop our young people educationally and to assist our community in sustainable development," she says.
Clendinen Watson draws inspiration from life itself and attributes her accomplishments to her family, her optimism, and her work ethic. She still writes, and has launched a new blog about St. Croix called Company Street Chronicles.
"I am using my creative energies to build a media platform that can serve the issues and people that I care about. I grew up in the U.S. Virgin Islands at a time when children were encouraged to be their best and to use their talents and gifts to help their community. Those are still my core beliefs," she states.
Clendinen Watson resides in Northern Virginia with her husband Neal Watson, her children and grandchildren.
Nugget for V.I. Youth: "Embrace your greatness. Don't shy away from discipline or hard work. Whatever historical success our people have achieved has come from discipline and hard work. Loving your neighbor as yourself is a value that used to be a hallmark of our community. We need to rediscover that.
Little Known/Fun Fact(s): "I initially wanted to be a medical technologist or a doctor.
__
Loán Sewer is a marketing and tourism branding consultant and proud Virgin Islander who resides in Charlotte, North Carolina. Follow her on Twitter @LoAnSewer or e-mail her at info@gobiconsulting.com.