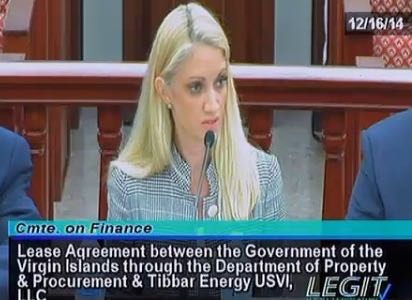 Three creditors to Tibbar Energy Inc. filed suit this week asking the U.S. District Court to put St. Croix's Tibbar Energy into involuntary Chapter 7 bankruptcy, over $236,763 in unpaid bills.
Tibbar Energy in the midst of a multimillion-dollar project to deliver 7 megawatts of power to the V.I. Water and Power Authority on St. Croix by growing king grass and using the biomass to produce methane gas burned to generate power. Tibbar Energy signed a power generation agreement with WAPA in 2013. The plant is scheduled to come online in December.
WAPA officials have not been informed of any change to that schedule and Public Services officials cited that date during budget hearings in July.
Reached for comment, Tibbar Energy owner Tania Tomyn said Tibbar is committed to carrying out the project to completion.
"Tibbar Energy USVI has invested millions of dollars and three years of effort into the development of a renewable energy project on St. Croix," Tomyn said in a statement to the Source. "Tibbar remains fully committed to the project and is completely focused on meeting its commitments to WAPA and to its corporate and individual business partners on St. Croix," she said.
"In any startup business, particularly one that requires the investment of a hundred million dollars in new risk capital, difficulties and delays are inevitable, Tomyn continued. "Tibbar understands the motives of the three creditors that have filed a claim. Tibbar looks forward to addressing those claims in the proper forum. This minor setback does not, in any way, lessen Tibbar's commitment to the success of the project or harm Tibbar's ability to meet its legitimate obligations and to achieve its long term goals," she said.
The petition to the court [Tibbar Bankruptcy Petition] lists three creditors who say they are owed by Tibbar. It says $164,404.32 is owed to the engineering firm of CDR Maguire for professional services; $40,994.38 to Schuster Revocable Trust as landlord; and $31,365.00 to St. Croix Survey and Engineering for professional services.
WAPA spokesperson Jean Greaux said the utility was recently informed of the bankruptcy and had not been informed of any potential delays. It has not made any decisions regarding the news yet, he said.
"We are reviewing our options based on the information," Greaux said.
Back in 2013, when WAPA's governing board approved the contract, then-WAPA Executive Director Hugo Hodge Jr. said WAPA was not at risk if the company failed and was not dependent on getting that energy.