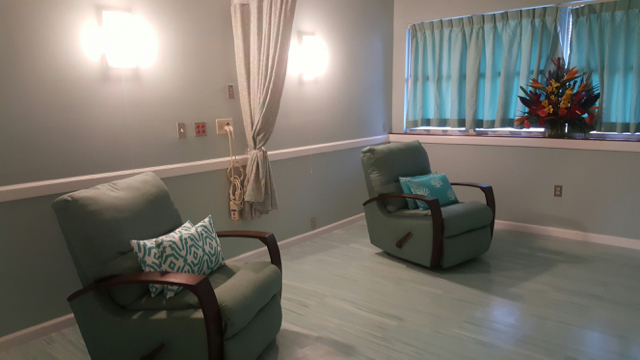 Gov. Juan F. Luis Hospital held a symposium on the benefits and importance of breastfeeding and opened a new corporate lactation room for employees to breastfeed, Monday in the hospitals' V.I. Cardiac Center.
Speakers at the symposium were: Donabel Pierre, Women, Infant and Children Health Educator and certified lactation specialist from the Department of Health; Faye John-Baptiste, the nurse manager at the JFL Neonatal Intensive Care Unit nurse manager; and Colleen Liburd Azubuike, nurse manager of the JFL Mother Baby Unit.
Topics at the symposium included "Breast Milk: Nature's Superfood," and "Supporting Breastfeeding Families in the Virgin Islands."
Following the symposium, participants and members of the media were invited to the unveiling and blessing of JFL's new corporate lactation room. Federal labor laws require employers to provide employees who are nursing, reasonable breaks throughout the workday to express milk, and it also requires that employers provide a private space other than a bathroom to express that milk.
JFL's corporate lactation room includes two recliners, a privacy curtain and access to hospital grade Medela breast pumps for the comfort of its employees.
"The new addition demonstrates JFL's commitment to providing a quality environment of care for its employees, as well as its patients," the hospital said in its news release.
Funding was provided through a $50,000 donation from David Johnson of Cane Bay Partners VI. It's the fifth room to be completed from Johnson's gift. Two patient rooms on the Mother/Baby unit and two rooms on the Labor and Delivery unit were renovated earlier this year thanks to Johnson's donation.
The hospital and the Health Department's WIC program hosted the symposium.