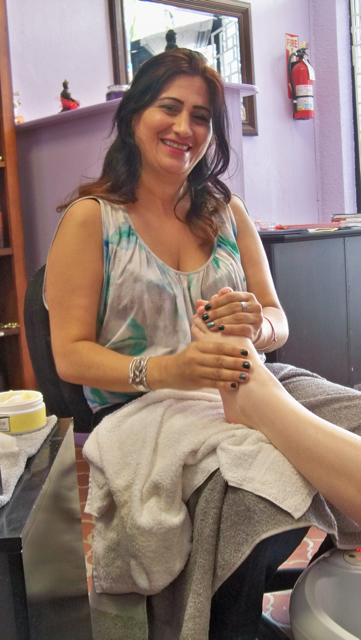 Ruba Atary heard the talk on St. Croix about people creating their own job by becoming entrepreneurs and starting a small business to help stimulate the economy. Atary, a cosmetologist, then noticed no nail salons in downtown Christiansted.
She decided that was her opportunity. She could do what she loves and provide a relaxing treat for locals and hotel guests, giving manicures, pedicures and reflexology.
With encouragement from her two daughters, Renad and Montaha Abdallah, Atary jumped.
"They said 'Mommy do it,'" Atary said. "They told me to do what I love."
Atary showed her independence when she fired the first contractor she hired to clean up and remodel her space in the Pan Am Pavilion at 39 Strand Street. She said they just weren't doing what she expected them to do. She ended up doing most of the work, including sanding and polishing floor tiles and painting the walls pale orchid herself. She got the work done in a little more than a month and opened the salon June 12.
"I'm trying to stimulate and support the island economy by hiring local people and doing business locally," Atary said.
She believes the people she hired were going to do whatever they wanted because she is a woman. She added it is unusual in her culture to be a strong woman and not depend on a man.
She said she was happy with her timing for the opening because there was a good amount of tourists in town, and now, though it's low season, she is still doing well serving locals.
She provides relaxing, refreshing and rejuvenating manicures and pedicures for men and women.
"Men are some of my best customers," Atary said. "Once they try pedicures and manicures they're hooked. They feel pampered and enjoy it more than women."
When she does reflexology, which is a deep-tissue foot massage, it feels so good it relaxes some folks so much they fall asleep. She said reflexology repairs and heals the body while relieving stress.
"When I see a customer that relaxed, I know I'm doing a good job," Atary said with a wide smile.
She has a nice assortment of pedicures and manicures available from the classic gloss manicure to her signature Moroccan Oasis pedicure.
"I take people to Morocco and back with scents, tea and music," Atary said.
Instead of typical faux leather pedicure chairs with an attached tub, faucets and drains, she has two cushioned high-backed rattan armchairs for treatments she purchased locally. The pedicure tubs are portable, which Atary loves because they are very sanitary and easy to clean. She uses Gloss Naturals organic, eco-friendly and non-toxic nail products. Atary has a wide selection of colorful nail polish that is fast drying, chip resistant and durable.
Atary is from Palestine and was born in Jerusalem. She started helping an older sister in her hair salon when she was eight years old. Atary said she really wanted to be a professional dancer but her parents wouldn't allow her to take up dancing. She taught herself to belly dance and now she does it for relaxation, fun and exercise.
She said she also would have loved to have studied law.
Atary, who had been in an arranged marriage, moved to St. Croix 25 years ago with her now ex-husband. She got her certification and license to become a manicurist on St. Croix. She worked in the Buccaneer Hideaway Spa for almost a decade, moving up from hair stylist, manicurist and receptionist to supervisor and as the spa manager for five years. She left the Buccaneer in 2009 and got a job at Royal Jewelers on Strand Street. She worked for Royal Jewelers in Alaska in the summer, and worked for the company in Mexico and St. Kitts until they went out of business a few months ago.
"I want people to know I'm back and doing nails full time," Atary said.
The hours at the salon, or lounge, as Atary likes to call it, are 9 a.m. to 6 p.m. Monday through Saturday. Appointments are recommended.
More information about the types of treatments and price is available by calling 340-719-1748 or sending email to rubasnailoasis@gmail.com.