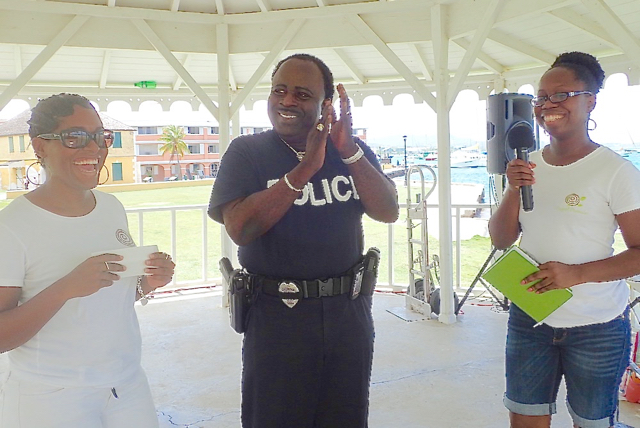 The Project Promise Caterpillar Project – a dozen fifth graders from Lew Muckle Elementary School – raised money this summer for a five-year-old classmate suffering from cancer, and presented the donation to the family's representative Saturday during a family fun day at Fort Christiansvaern.
Project Promise is a two-year-old non-profit organization with the goal of empowering at-risk youth, according to Resa O'Reilly, the group's founder and president. Focusing on life skills, education, community service, culture, health and career choices, adults serve as coaches throughout the year. The program will mentor the students through high school and college.
"We can't just do one year. We'll follow them the whole time through adolescence to adulthood. Right now they're caterpillars we work with, stick with and support to become beautiful butterflies," she said.
With the help of Project Promise board members, the caterpillars began raising money for Demarcus Navarro last summer. On Saturday, they presented a check for $507 to V.I. Police Officer Charles Nibbs of LuvKids Radio and Television Productions.
"Thank you for the great donation. We need all the prayers. Lord, please help Demarcus," Nibbs said.
So far, Nibbs said LuvKids has helped raise more than $2,100, including $1,500 for a wheelchair for Navarro, who has been battling cancer for more than a year.
This year, the Project Promise after-school program at Muckle school was expanded to include a six-week summer camp that ended Saturday. Families were invited to tour several estates with their sons and daughters before a picnic and games in the park adjacent to the Fort Christiansvaern.
Noelline and John Mark's son Zeeken is a part of Project Promise. The parents agreed it is a good program and John Mark said he appreciated the new experiences and help with homework his son receives. Zeeken said he likes "everything" about Project Promise.
"It's a good program. It has made them closer. They are like a family now – even the parents," Noelline Mark said.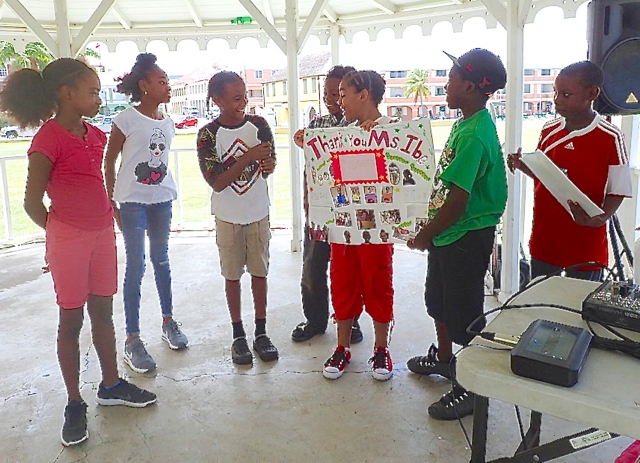 In addition to presenting a check to Nibbs, the students thanked one of their teachers who is leaving, and received new backpacks filled with school supplies and a school uniform.
Elise Dagley spearheaded the back to school fundraising and said more than $600 was contributed, much of it from residents of Chicago, who had heard about the program. The winners of a raffle drawing that raised around $2,000 to support the program were announced.
The Project Promise staff includes three paid and two volunteer staff members.
O'Reilly said she has worked with youth since she returned to St. Croix – with V.I. Human Services, the Justice Department and St. Croix Educational Complex. Being laid off two years ago was a blessing in disguise, she said and gave her an "opportunity to create something I felt would be effective."
She bought a building at the intersection of King Cross and Queen Street that will be refurbished some day to house Project Promise.
"I'm invested. It is part of my life forever – an extended family," she said.