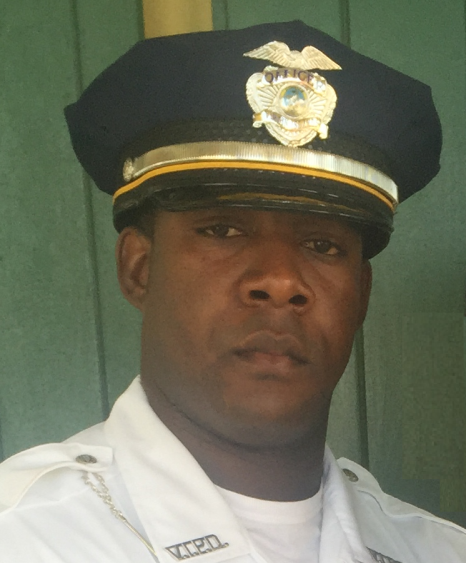 Police Officer and Veteran Kai Jamal Javois, age 28, of Union and Mount Washington, has passed from this life and leaves to mourn many family members and friends.
He is survived by his mother, Yvette Barnes; father, Steve Javois; stepfather, Darren Williams; fiancé, Rena T. Sarauw; sister, Shawnae Swanston; aunts: Pauline Audain, Jacqueline, Lynette, Lorraine and Linda Barnes, Lorin Emile, Adeline, Sharon and Marie Javois; great aunts: Jane Bolling, Iris Wilson, Beryl Bolling-Sergeant, Roselyn Griffith, Loreen and Cleopha Barnes; uncles: Elmo and Bernard Barnes Jr., Michael Javois; great uncles: Dennis Barnes Sr., Vernon Barnes, Wilfred and Donald Audain; and close cousins: Keisha James, Gillisa and Gilana Williams, Nicolai Joseph Jr., Alicia Barnes, Nile James and Nia Sylvester.
He is also survived by other cousins: Bernard Barnes III, Javon and Jarrod Barnes, Njeri Joseph, Yanique Bean, Mwanga Audain, Virohn and Shenece Morgan, Emmanuel "Knuckles" Barnes, Ceceila Barnes-Williams, Anna, Sherica, TeShanee, Cheryle, Judy, Josie, Tracy, Doreen, Theresa, Carol Barnes and children, Roy, Thomas Jr., Daryl, Randy, Marvin, Melton, Mikey and George Barnes, Noellia Chaparro, Coretta Canton, Jahmalia Barnes, Shawn, Akeem, Raheem, Nikkita and Iesha Javois.
Other survivors include special friends: Don Peter, Derrick Rawlins, Denise Ceaser, Jesus "Pablo" Rivera, Edwin "Rozay" Rosario III, Darren Kelly, the Hobson family, the Evans family, Jessie, Carylyle, Glenroy Swanston, Egbert Thomas Jr., Mikito, those who proudly served with him in Iraq and Afghanistan, Police Officer Garcia (NJPD), VIPD Recruit Class 2015-1 Raging Eagles, fellow VIPD officers, Church family at Peter's Rest Seventh-day Adventist Church, Clive Browne, Tony Hobson, Greg Evans, Linda McBean, Melonie St. Bryce, Pastors David, Heskey and Hesketh Matthew, Brother Royce and Elder Herman Raverier; as well as other relatives and friends too numerous to mention.
Tributes will begin at 9 a.m. followed by funeral services at 10 a.m. on Friday, Aug. 26, at Peter's Rest Seventh-day Adventist Church. Interment will be at Kingshill Cemetery.
All arrangements are by James Memorial Funeral Home Inc.