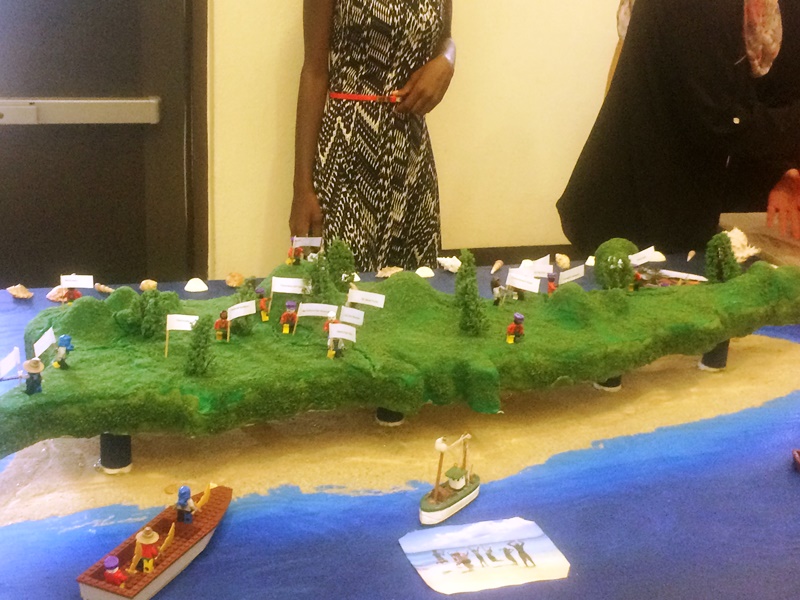 High school students participating in the revived Math and Science Research Academy this summer on St. Croix showcased their STEM (science-technology-engineering-mathematics) projects on Friday, July 29, at the University of the Virgin Islands' Great Hall. The Research Academy was conducted from June 27 to Aug. 5, at the St. Croix Educational Complex.
About 60 students eagerly discussed their research projects and proudly displayed their accomplishments through Power Point presentations, posters, brochures, jewelry and other items made from recycled materials. Replicas of the historic district of downtown Christiansted and the Henry E. Rohlsen Airport made of LEGO blocks, and a model of the island of St. Croix depicting guts, ponds, dams and other water storage areas were placed in the hall.
"The students spoke with authority on their respective topics as they took ownership of their learning," said St. Croix District Director of Curriculum and Instruction Maria Encarnacion.
Project topics at the Academy included water run-off storage, the impact of improper solid waste dumping, a LEGO Design of St. Croix in 2041, sports (track and field) integration into STEM, and a trash to treasure recycling project.
Encarnacion recalls that only 16 percent of high school students are interested in a STEM career and have proven a proficiency in mathematics. As a result, she said, the Obama Administration announced the 2009 "Educate to Innovate" campaign to motivate and inspire students to excel in STEM subjects. The goal is to get American students from the middle of the pack in science and math to the top of the pack in the international arena.
"The St. Croix District is serious about STEM and has put its money where its mouth is, hence, the rebirth of its Math and Science Summer Research Academy," Encarnacion said. "The program was designed to demonstrate the interconnectedness of Science, Technology, Engineering, the Arts and Mathematics (STEAM), and it was evident that all goals were met."
The program leaders were Juanita Boneque, district mathematics coordinator, and Rosa White, district science coordinator. Approximately ten lead teachers and ten teaching assistants participated in the academy.
Goals of the Math and Science Research Academy were to stimulate high interest as well as improve academic achievement in math and science, thus increasing career and college readiness in science and mathematics. Students were immersed in project-based learning through problem solving, scientific research and innovative projects that encouraged critical thinking and improved communication at all levels.