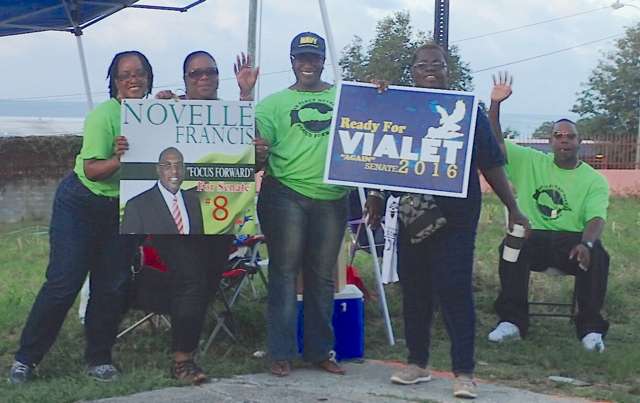 Delegate to Congress Stacey Plaskett handily defeated a primary challenge from former Sen. Ronald Russell Saturday in a primary notable mostly for a low turnout.
Fewer than 14 percent of almost 30,000 registered Democratic voters cast ballots throughout the Virgin Islands Saturday, according to results from the V.I. Elections System.
Final tallies won't be available for 10 days until after absentee ballots are counted, but in Saturday night's unofficial tally, incumbents garnered the most votes in all categories.
The highest number of votes – 3,860 – were cast for Plaskett. Her opponent, Russell pulled just 635 votes. There were 22 write-ins.
Plaskett told the Source Saturday night she ran a positive campaign with none of the attack ads used by her opponent. She said the economy, jobs and crime will be big issues in the General Election.
"One thing I want to say is I'm so honored and pleased that people have faith in me and what I've done the past two years," Plaskett said.
It was a fairly close race for At Large/St. John senator, with Brian Smith receiving 1,205 votes and Stacie January 1,078. There were 312 write in votes.
St. Thomas Democratic candidates who will appear on the November General Election ballot are Sens. Marvin Blyden, 1,596; Myron Jackson, 1,534; Janette Millin Young, 1,422; Justin Harrigan, Sr., 1,326; Jean Forde, 1,229; Kevin Rodriguez, 1,017; former personnel director for Gov. Charles Turnbull and former senator Patrick Simeon Sprauve, 908.
On St. Croix, the top numbers went to Sens. Kurt Vialet, 1,544; Novelle Francis, Jr., 1,464; Sammuel Sanes, 1,271; Nellie Rivera-O'Reilly, 1,246; Kenneth Gittens, 1,221; Neville James, 1,208 and candidate Terrence Joseph, 762. Vialet and Francis are first-term senators who were also at the top of the 2014 General Election list. Ignacio Llanos garnered 611 votes, so he could bump Joseph off the ballot after absentee votes are counted.
Board of Elections candidates for the General Election from the Democratic Party will be Arturo Watlington, Jr., incumbent, and Maurice Donovan, Jr., both from St. Thomas. Patricia Varlack was less than 100 votes behind and could possible push Donovan off the ballot.
The St. Thomas Board of Education candidates in November will be board member Arah Lockhart and Kyza Callwood. There were no Democratic candidates from the St. Croix district.
The St. Croix Board of Elections will begin on Sunday counting Democratic Party ballots for national committeewoman, state chairman and territorial committee as well as absentee and provisional ballots. There was no word when the ballots will be tallied in the St. Thomas district.
Complete results are online at vivote.gov.