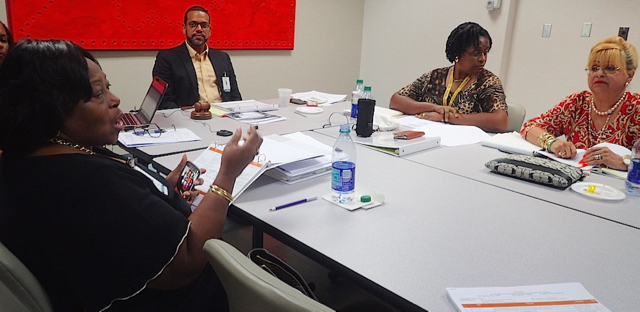 Almost $9 million dollars were lost over the last two years at the Gov. Juan Luis Hospital for V.I. government-mandated care provided to patients who don't pay for services, Tim Lessing, JFL chief financial officer told the governing board Monday.
The V.I. Code directs the territory's primary hospitals not to turn away patients who need medical care despite their ability or inability to pay for services. Consequently, both hospitals lose millions of dollars every year, while the government allotment has dwindled rather than kept up with expenses.
Lessing reported that in 2014, more than $26 million was provided in uncompensated care against an allotment of $20,148,000 from the V.I. government. In 2015 almost $23 million in free care was delivered with the same government allocation, leaving the hospital short $8.7 million for two years.
Lessing told te board members the figures were shared with members of the 31st Legislature during a July 27 budget hearing but he was not clear if the allotment would be increased. A third-party firm calculated the true cost of uncompensated care – which is the expected amount of repayment filed with CMS.
"I did not get a firm commitment as to the direction," the Legislature will take on the 2017 allotment, Lessing said.
While the hospital board has appealed for more funding from the V.I. government, board treasurer Philip Arcidi, and others also have petitioned the federal Centers for Medicare and Medicaid Services to increase their reimbursement rate for services provided to Medicare and Medicaid patients. CMS uses costs for services that reflect 1996 prices. Arcidi said Monday, there has still been no word regarding the appeal after two year's of meetings and correspondence.
The hospital has been clawing its way out of dire financial problems for years and slowly has made some progress, Lessing and Arcidi reported Monday. For the first six months of 2016, a bottom-line net gain of over $471,000 was realized versus a budget forecast of $160,000 and in June more than $6 million was collected against a predicted loss of almost $2 million.
Staffing, especially in the emergency room, is another continuing problem at JFL, and acting Chief Medical Officer Dr. Raymond Cintron said increasing the starting salary of ER physicians has helped attract applicants.
"There is a doctor shortage nationwide, so we need to use our charm to attract physicians," he said.
One selling point is the Virgin Islands quality of life, Cintron said, and another is the state of the art equipment recently funded through a grant to the gastroenterology department.
Despite one physician on sick leave and another called for military duty, the ER "is covered every day," Cintron reported.
Other discussions at Monday's board meeting included training for hospital employees, the appointment of physicians for neurology and pediatrics and a fire response plan.
Acting Chief Executive Officer Richard Evangelista reported the hospital is sustaining compliance with CMS conditions of participation through monitoring by the quality, safety and oversight committee.
Attending the meeting were board chairman Troy de Chabert-Schuster, and members Vera Falu, Aracelis de Hendry-Walcott, Theresa Frorup-Alie and Arcidi.