In April the Source published the first in a series of articles exploring perspectives and initiatives in Denmark related to the upcoming centennial of the transfer of St. Thomas, St. John and St. Croix from Denmark to the United States. In this second installment, Trinidadian-American writer Lesley-Ann Brown reports from Denmark on some of the more "critical" initiatives surrounding Denmark's observation of the centennial. More of Brown's writing can be found on her blog, Blackgirlonmars.com, which focuses on identity and her experiences living in Denmark for the last 10 years.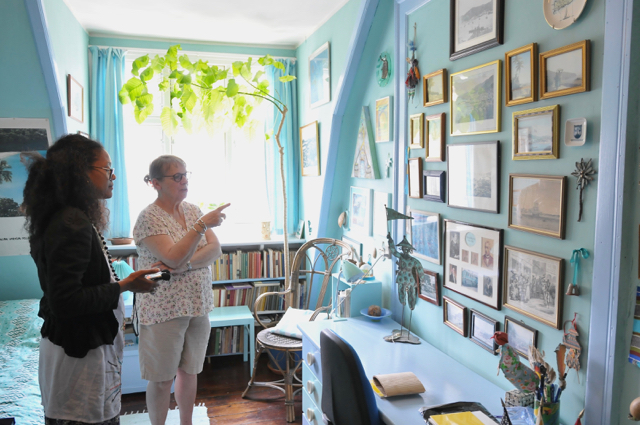 On a spring morning in May, a group of about 20 artists, academics, culture-makers and writers in Denmark were called to a meeting at a small venue in the colorful neighborhood of Nørrebro in Copenhagen.
The venue, Kimia, owned by Pardis Pourahmad, is known for hosting cultural events that celebrate work outside of the Danish mainstream that challenge existing cultural narratives of Copenhagen and the nation. Reflective of its host street, Blaagaardsgade, Kimia can be summed up as a meeting place for the global majority.
The day of the meeting was one of the first warm ones of the year in the Scandinavian capital, and the attendees, like the new season itself, seemed vibrant, enthusiastic and energized.
The topic to be discussed was the upcoming centennial of the transfer of the former Danish West Indies – St. Croix, St. John and St. Thomas – to the United States, a commemoration which has different meanings depending on what side of the Atlantic you find yourself on and how you locate yourself in the history of the Atlantic World.
For some Danes, and an array of other nationals who for various reasons hold a stake in Denmark and its history, raising awareness about the links between Denmark and the Virgin Islands is important because they feel that Denmark – which has an extensive colonial history across several continents and territories – tends to suffer from a touch of historical amnesia.
The word "jubilee" is the eyebrow-raising word some Danish media sources have chosen to refer to the upcoming centennial commemoration, but many of the individuals who were present at May's meeting are inclined to take a more critical look at how this anniversary is being used – or perhaps not – to spark a dialogue about Denmark's colonial past.
For the 2017 transfer centennial, many interested culture-makers, creatives and scholars intend to pick up where they feel the Danish government has left off.
According to the meet-up organizers – Karen Evangelista Catanjal, co-founder of arts organization Artlantic; visual artist Katrine Dirckinck-Holmfeld; and Dr. Temi Odumosu, postdoctoral researcher at Malmö University's Living Archives Project – the event was intended as an "introductory dialogue about the layers of interests, perspectives, and also challenges, impacting the work of cultural organizers and practitioners."
In a more recent correspondence with Karen Evangelista Catanjal, it is explained that "Artlantic will be registered as a non-profit organization that produces and curates clusters of art/cultural exhibitions, performances, master classes and seminars."
"Artlantic is not exclusively about Transfer Day but will be part of commemorating Transfer Day, as a day to launch a series of art and cultural events produced and curated by Artlantic," Evangelista Catanjal said.
She said that Artlantic "wishes to use not only Transfer Day but all of 2017 to launch a platform for reflections on Denmark's colonial legacy by bringing artists, students and scholars from Ghana, the U.S. Virgin Islands and Denmark together in order to 'transfer' experiences, histories and memories as a means of creating collective practices that can transcend suffering to healing."
"Artlantic is particularly focused on supporting international visual and performing artists by providing platforms to present their work, and to collaborate. They will be using 2017 as an opening for promoting a host of global artists (dancers, painters, writers, musicians etc.), who will be active in public spaces," Evangelista Catanjal said.
Meanwhile, Odumosu is developing two projects at Malmö University which seek to incorporate the use of mobile devices to explore hidden colonial histories in the city of Copenhagen. This is part of an ongoing design research project in connection with Odumosu's work with the Living Archives Research Project.
"I will be using my research position at Malmö to make interventions responding to mainstream cultural institutions, and their collections, to help shake up institutional practices," said Odumosu.
"We already know that 2017 in a Danish context, has limited resonance, given that transfer day does not didactically engage with emancipation, intercultural exchange, or artistic vitality. Transfer day is technically a transaction, marking Denmark's loss of territory, power, and accountability to its former Caribbean colonies," he said.
"But what might happen if we dislocated the word "transfer" from this stifling historical context, and approached it as a conceptual window for thinking about how culture, spirit and memory, both travel and adapt?"
Other participants at May's meet-up included Trinidadian Danish artist Jeannette Ehlers, assistant professor at Copenhagen University Mathias Danbolt, Jamaican-Danish artist Michelle Eistrup and Research Assistant Professor Mira Skadegård Thorsen from Aalborg University, all of whom expressed a strong desire to ensure that a critical perspective be included in commemorations of the upcoming centennial.
As one individual, who wished to remain anonymous, expressed "We just don't want this to become like the 150th year celebration of emancipation" referring to what some still describe as a debacle that transpired in the Virgin Islands due to the absence of the Danish queen (who was invited), the absence of an apology for slavery from Denmark (which was denied), and a reenactment of the freeing of Danish West Indian slaves by Governor Peter von Scholten from a singularly Danish perspective.
The Danish West Indian Society will also offer activities in the build up to 2017. The society, which has existed since the transfer of the islands in 1917, describes itself as "unpolitical." It has as its goal, "to gather everyone that has or has had a connection to the U.S. Virgin Islands, together with others who have an interest in maintaining and creating friendly cultural connections to the islands, and to preserve historical memories of the Danish West Indies."
The society is planning a pop-up cultural venue to be held at The Prince's Garden at Frederiksberg's Roundabout, called "The Virgin Islands Culture Embassy," on Oct. 1. The "embassy" will host themed exhibitions, art, photos and crafts, lecture series, book launches, debates, genealogy workshops and more leading up to the centennial.
On June 15, 2017, there will be a "friendship festival," at which artists from Denmark and the U.S. Virgin Islands will celebrate their relationship, an event that will also mark the 100th anniversary of the Danish West Indian Society.
"We have a long and significant history of colonial trade, slavery and rebellion that must be told. And this is a story that we share," said Ulla Lunn, the festival's promoter. "Let's see if we can create a community and some areas of collaboration with our friends in the U.S. Virgin Islands. We will at least make an effort to do so and throw the party – then we will see if we can find cooperative projects that go further."
Another initiative that will be launched around the centennial is a journal called Marronage, founded by historian Alfred Scherfig with journalists and historians Laura Na Blankholm, Simone Sefland Pedersen and Niklas Weis Damkjær.
"Marronage's goal is to intervene in the public debate through the publication of a physical quarterly magazine … and also through a series of open conferences and other events, and an internet platform [that will] create an overview of all the projects about colonial history during 2017," said Scherfig.
On June 23 Marronage held an open meeting for interested parties to drop by and hear more about the project.
"The project is primarily to give voice to people and organizations that will deal with the colonial perspective. We will map, collect and publish these perspectives to increase focus on the colonial history from a critical view," said Scherfig.
Also of note is a new exhibition space known as Meter, in Sølvgade, Copenhagen. Meter is planning an exhibition to be held from December 2016 through May 2017, which will focus on the relation between the USVI and Denmark. St. Croix artist La Vaughn Belle will be in residence at the space and create work that addresses the influence of the Danish period still felt and seen in the Virgin Islands.
Also upcoming is a special issue of the Danish scientific journal Slagmark on the "imprint of Danish colonial history" which will be opened up to non-Danish contributors and will accept papers in English. Slagmark is published by Aarhus University Press and was founded in 1983.
With this collective effort from the ground up to ensure that Denmark's common history with the USVI is not forgotten, the hope is that trans-Atlantic dialogue during the upcoming transfer centennial will fare better than it did during the 150th Anniversary of Emancipation.