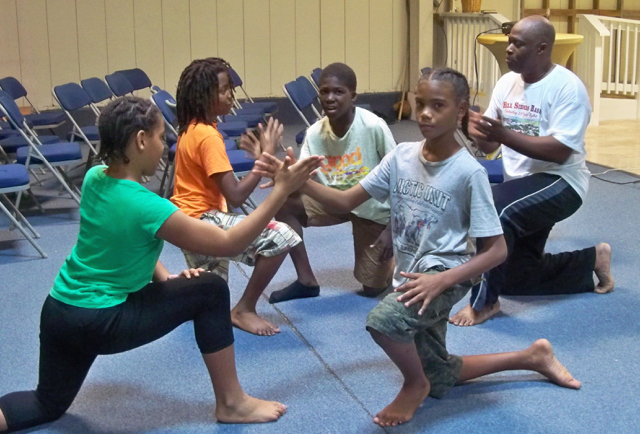 At-risk youngsters are getting long-term help in the Caterpillar Project, a pilot program of Project Promise designed to make a significant difference in the lives of certain youth on St. Croix.
Project Promise was formed in 2014 to help at-risk youth by providing them with the tools and support they need to get and stay on a positive path. They take an approach designed to support and empower the whole child, according to Resa O'Reilly, founder/president of Project Promise and life coach.
O'Reilly said some at-risk youth in St. Croix face numerous challenges. They're living in poverty, doing poorly in school, they lack positive role models and the tools to make good decisions.
Over time the Caterpillar Project will become a "support system" for these youth, with close ties to adults who take a personal interest in their growth and development O' Reilly said.
The Project's initial pilot group of 12 selected fifth-grade students meet with staffers after school on a daily basis through high school and into college. O'Reilly said the students chosen are marginal C and D students with minimal to no behavior issues and an involved parent.
"They are the students that don't always get one-on-one attention," she said.
The Caterpillar Project began on Jan. 25 with fifth graders from the Lew Muckle Elementary School. The goal is to make a difference in the lives of these at-risk youth over the next eight years.
During the program's first semester, the students were introduced to several monthly themes to help enhance their educational experience. They met with staffers after school for daily coaching and activities in nine areas: life coaching, mentoring, personal wellness, tutoring, career exploration, cultural awareness, creative expression, community service, and family support services.
J'Neelah Daniel, 10 years old, said she loves everything about the program and plans on taking part in the project through the next seven years.
"This program will help me to find a better life, better job, and a better education," Daniels said. "The program has helped me to learn to calm down and learn from my mistakes. The life coaching helps with personal things like family problems."
She added she likes the field trips and learning about St. Croix.
The students did a hike to the Caledonia Waterfall, an island tour, and a visit to Sejah Farms. They went to St. George Village Botanical Garden story time to hear Janice "Aunty Janice" Tutein tell old-fashioned tales.
For community service they planted flowers and picked up litter at Lew Muckle. In August they will donate food to residents at the Bethlehem shelter for their focus on family support.
Recently, V.I. Police Department Officer Charles Nibbs, president of Luv Kids, spoke to the participants about morals and right and wrong. O'Reilly said beyond Nibbs talking to the children, they decided to do a fundraiser partnering with Nibbs. They raised money for DeMarcos Navarro, a classmate who is having a leg amputated because of cancer. The children raised $342 dollars. The staff members will also contribute.
"I'm just so excited with all we do," O'Reilly said. "Overall the children love the program. I've noticed the changes in them and it's rewarding. I see their grades improve. We can change the course of their lives and give them an opportunity they might not have. We want to help them tap into their full potential. I've had so many joyous moments seeing their breakthroughs."
During their summer break students are meeting from 9 a.m. to 2:30 p.m. weekdays until to Aug. 19 in the year-round program.
Ibeliz Guadalupe, program facilitator, yoga and art instructor, said the children do math and reading three days a week. They play games in the afternoon and they particularly like to play crab soccer. She said she was surprised to see they really love the yoga class she leads. It teaches them mindfulness and calms them down so much at the end of the class they have fallen asleep.
Guadalupe has seen the benefits and has noticed the growth and changes in the students attitudes and with some an improvement in grades.
Rudy O'Reilly, vice president, is teaching the children Capoeira, a Brazilian non- violent martial art form. He said Capoeira is disguised as a game, and teaches the children music, dancing, acrobatics, the Portuguese language, discipline and to concentrate.
O'Reilly has also partnered with the National Park Service almost three years with the Ticket to Ride Program, where all the sixth grade students in public schools on St. Croix do a field trip to Columbus Landing. O'Reilly said more than 900 students have done the trip.
O'Reilly said she is excited to see and appreciates all the support from the community. She added they are always looking for sponsors and donations from the public and private sectors.
They are holding a raffle in August for a "By Air, By Land and By Sea" package with prizes from Seaborne, Tan Tan Tours and Big Beard. And on Sept. 24 they will host a cocktail party at the Alcove in Christiansted.
Those who want to donate to the organization, get more information or learn more about the raffle can visit the website at www.projectpromisevi.com or call 340-244-3242.