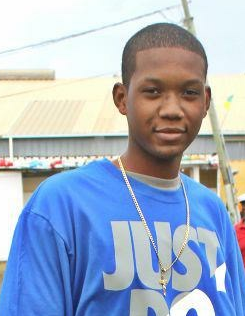 Malik-Isiah Benjamin, also known as "Courage," of Estate La Grange departed this life with his special friend Yahfari Brodhurst on July 10. He was 18 years old.
He was preceded in death by his uncle, Gregory Mathurin.
He is survived by mother, Nasha Mathurin; father, Norris Benjamin Jr.; stepfather, Julius Challenger; grandparents: Mary Clovis, George Clovis, Peter Alexander, Norris Benjamin Sr. and Olivia Benjamin; girlfriend, Brianna K. J. Christian; sisters: Indiria Benjamin and Annayah Benjamin; brothers: Raheem Benjamin and Marquise Benjamin; nephew, Raheem Benjamin Jr.; and aunts: Tsherina Clovis, Tasherley Clovis, Yasmin Samuel, Janice Benjamin, Denise Benjamin, Brenda Benjamin and Sophia Benjamin.
He is also survived by uncles: Rohane Bourne, Hanife Bourne, Hilary Bourne, Lucas Samuel, Jason Samuel, Anthony Samuel, Lyn Louisy, Anthony Agathe and Melvin Benjamin; great aunts: Delores Daniel, Felicity Julien, Joslyn Mathurin, Patricia Mathurin, Philomen Mathurin, Jane Felix, Theresa James, Josephine Alexander and Cecilia Alphonse; and great uncles: Johnson Mathurin, Albert Mathurin, Tony Mathurin, Marcellus Mathurin, Noel Daniel, Cuthbert Julien, Ignatius Gerson, Augustine Agathe, Victor Gerson, Antoine JnCharles, Noel Agathe, Thomas James and Marcel Felix.
Other survivors include godparents: Petra Arroyo and Ira Galloway; special friends: Mallek Ilarraza, Kyrone Burke, George Blake, Luis Ortiz, Dennis Arthurton Jr., Reanna Schjang, Shaynifa Petersen, the Showbreed family and the S.O.B family; special cousins: Elijah Naughton Mendes, Tiffany Matthew, Ezekiel Prevost, Zarina Pant, Chinara Agathe, Arehanna Agathe, Jessica Benjamin, Gizelle Benjamin, Sophina Benjamin and Melvina Benjamin, Junior Bourne, Breanna Samuel, Rohane Samuel, Ezekiel Samuel, Jordan Louisy, Tyson Louisy; 35 great cousins and 47 great-great cousins; as well as other relatives and friends too numerous to mention.
The viewing will take place at 10 a.m. and the funeral service at 11 a.m. on Thursday, July 28, at Victorious Believers Ministries. As per the family's request, cremation will follow.
In lieu of flowers, donations can be made at the funeral service to the "Mothers Against Violence" organization in honor of Malik and Yahfari.
The family requests that those in attendance wear festive colors.
All arrangements are by James Memorial Funeral Home Inc.