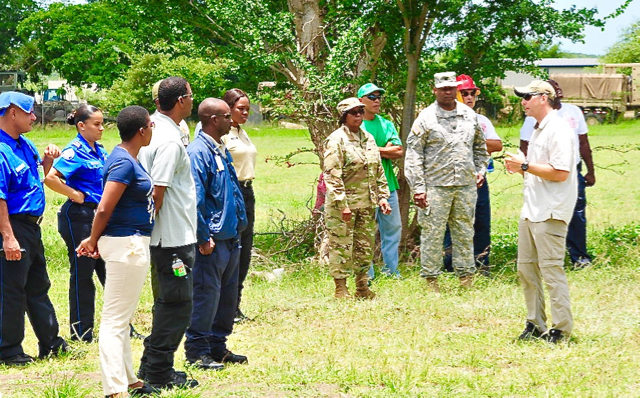 Warnings to alert residents to loud explosive testing by the V. I. National Guard before the July 14 and 15 exercises with the FBI was delayed by interruption in internet and telephone service, according to a VING spokes person.
The two-day training class taught by federal experts in weapons of mass destruction and bombs included classroom instruction and field demonstrations of industrial chemicals made into explosive devices that responders might encounter.
"It was basic orientation training for some, refresher training for others. With what is happening in the world, we don't know what to expect," Sgt. Karen Williams, VING public information officer said.
Participants, who learned how to approach and deactivate bombs, included members of the TSA, V.I. Fire Service, and the V.I. Police Department, according to Williams.
"The success of the Weapons of Mass Destruction (WMD) program throughout the territory is significant that we have all team players. It's a good step forward as we remain proactive in building relationships and creating partnerships with the emergency response community," said Maj. Sekou Richardson, commander of the VING 23rd WMD Civil Support Team. "It's very important that we meet all of our first responders and train together. This training was very valuable to all."
Calquhoun resident Johanna Bermudez-Ruiz said the explosions sounded like 200 to 500-pound bombs being detonated and caused confused neighbors to run out of their homes. The explosions disoriented dogs and other animals, she said.
"Our houses shook and vibrated with each explosion, which could have led to our houses cracking and moving from the foundation being that the ground in that area is very sensitive," Bermudez-Ruiz said.
Calls to 911 both days provided little information, according to Bermudez-Ruiz. Operators said that calls to the V.I. Police Department revealed the exercises were being conducted by VING, but didn't know what they involved nor how long they would last. Several senators also told her they had no knowledge low long the explosions would continue.
Williams said that after she realized the internet and phone service were down at work and her home and the press releases had not been received by the media, she called a local television station to make sure the release was read to alert residents. She also distributed flyers to surrounding neighborhoods and called 911 and VIPD to reinforce their information. Williams said it did not occur to her to release the information to the Source to post immediately.
Williams, who continued to experience unreliable internet service through the weekend, said Sunday the training has concluded but it is possible there would be similar exercises in the future.