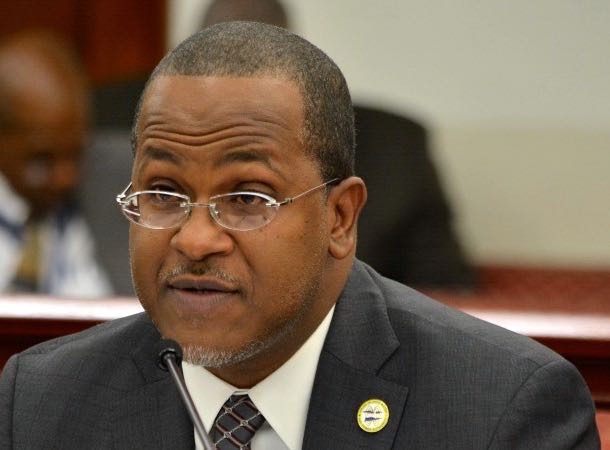 The V.I. Water and Power Authority needs government agencies to pay it and an increase in the base rate, or it could see more credit downgrades, ultimately hurting the government's credit and threatening the utility's ability to function, WAPA officials told senators Wednesday.
WAPA's bond rating was recently downgraded, in part due to liquidity problems caused by massive and growing unpaid government utility bills. (See Related Links below)
The Committee on Energy and Environmental Protection, chaired by Sen. Sammuel Sanes, met WAPA and Public Services Commission officials, along with top officials of some of its larger delinquent government customers, including both of the territory's hospitals and the V.I. Waste Management Authority. Senators discussed the utility's recent credit downgrades and financing issues.
Julio Rhymer, WAPA's acting executive director, said various government agencies owed a total of $36.3 million last fall. Since then some agencies have paid their balances, the government has given it $11 million and the territory's two hospitals have paid $8.1 million, through a special appropriation of fund from the sale of the Hovensa refinery. But even with that, government agencies still owe $26.6 million, with the central government owing $14.5 million and the territory's hospitals accounting for most of the rest.
PSC Executive Director Donald Cole said a base rate adjustment was in the works and suggested it would have been completed earlier if WAPA had acted earlier, when the PSC initially asked it to do so. WAPA is asking for an 8 cent per kilowatt-hour increase in the base rate, he said.
"There is no instant fix by the PSC that can restore WAPA's bond ratings," Cole said. While some increase to the rate will help WAPA's finances, he said "an 8 cent per kilowatt hour increase will almost certainly cause sales to fall and may even reduce revenue while damaging the V.I. economy. WAPA's recent sales increases will almost certainly vanish," Cole said.
Gov. Juan F. Luis acting chief executive officer Richard Evangelista, Schneider Regional Medical Center CEO Dr. Bernard Wheatley and V.I. Waste Management Authority acting Executive Director Steve Aubin all testified they were in financial dire straits and were forced to choose between paying WAPA and continuing their core functions.
Evangelista said JFL was short for its next payroll. Aubin said the VIWMA had to pay contractors to bail and stack trash at the Anguilla landfill or face serious consequences from the Environmental Protection Agency and put the V.I. Port Authority at risk of losing funds from the Federal Aviation Administration. Not bailing the trash could lead to an environmental and health crisis too, he said.
Sen. Marvin Blyden asked what would be the worst-case scenario if downgrades keep occurring.
"The ability to borrow will continue to shrink to 9 to 10 percent," Rhymer said. "This means borrowing for necessary equipment maintenance or the purchasing of new units are prohibited. Drastic measures will have to be taken if government agencies do not pay outstanding debts."
Sen. Rocky "Almando" Liburd said JFL and Schneider should incorporate payments into WAPA into their monthly bills.
Evangelista said if it does that "then one of the quality patient care programs will have to be cut." But he said if various government agencies paid JFL the $8.5 million they owe the hospital, it could pay WAPA.
Sen. Clifford Graham said there needs to be a comprehensive plan for the government to manage money better.
"The hospitals and WAPA are interconnected and the entities need each other. Lawmakers have to line item the budget for agencies that owe the hospitals so that they in turn will have the money to pay their outstanding debt to WAPA," Graham said.
Present were Graham, Liburd, Sens. Sammuel Sanes, Marvin Blyden, Positive Nelson and Janette Millin Young. Nonmembers Sens. Justin Harrigan, Neville James, Myron Jackson and Tregenza Roach also attended. Sen. Kurt Vialet was absent.