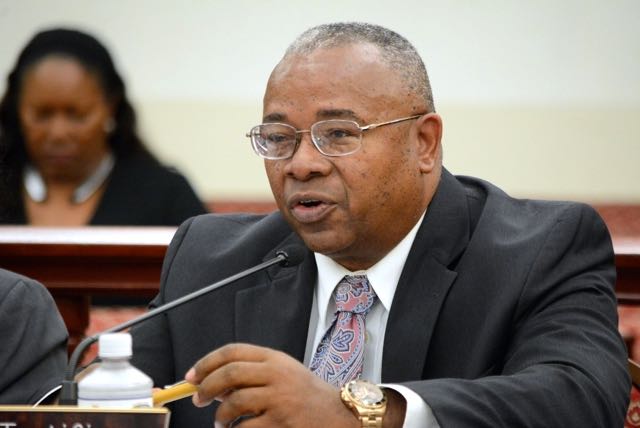 The cost of utilities dominated discussions Wednesday as the V.I. Public Services Commission presented its budget to the Senate Finance Committee. The PSC oversees V.I. Water and Power Authority rates but does not directly oversee its management, which is overseen by WAPA's volunteer governing board, but WAPA gives the PSC and its paid consultants a great deal of information as it presents fuel charge and base rate change petitions.
Utility rates skyrocketed in the early and mid 2000s as fuel oil prices shot up after the U.S. invasion of Iraq in 2003. WAPA has been converting generators to use a variety of fuels, starting with low-cost propane. But that conversion has taken longer and cost more than originally planned. Meanwhile, rates have nonetheless dropped.
"The current reductions in the LEAC are due to the fall in fuel prices," PSC Executive Director Donald Cole told senators. The conversion will reduce fuel costs more, "but long-term the key is improved fuel efficiency. WAPA's fuel efficiency is key to further reductions of cost, whatever fuel is used," Cole said.
Since January, the fuel surcharge, called the Levelized Energy Adjustment Clause, or LEAC, has been $0.16279, which Cole said is "the lowest rate since 2006."
Sen. Sammuel Sanes asked if the rates will drop as much as the cost of fuel or if the cost of converting the generators and building new infrastructure will eat up a lot of the savings.
Cole said, "Senator, you make an excellent point. The infrastructure costs of the conversion to propane, we have not dealt with that." Those costs have "ballooned from $87 million to $150 million. And that is a cost the ratepayer is going to have to absorb, so what you are saying is accurate. It is going to be eaten up."
For comparison, WAPA officials projected fuel costs of $154 million for Fiscal Year 2016, during budget hearings last year. WAPA officials estimated using propane would cut the cost of fuel by about 30 percent per year, depending on the relative prices of propane and fuel oil.
Right now, the LEAC rate is set to include the use of propane for part of the year and to pay some of the cost of the conversion, but at the $87 million projected cost, PSC officials said. At some point, the higher costs will have to be paid, they said, adding that rates should nonetheless go down.
The PSC also regulates landline phone service, ferries and waste management.
"The telephone landline services continue to have regulated rates and the commission is conducting a review of Innovative's telephone rates at the present time," Cole said.
Sen. Tregenza Roach asked if a decision had been made about Innovative's rates.
Attorney Boyd Sprehn said the PSC had agreed Innovative "was eligible for about a $2.40 (monthly) increase after meeting customer standards." The increase will not go into effect for several months or until Innovative demonstrates it has met the customer standards, Sprehn said.
Sen. Clifford Graham asked about reports that barges were taking passengers as well as vehicles between St. Thomas and St. John and whether that infringed on ferry franchises.
Cole said carrying passengers would infringe.
Sprehn said some passengers can go, complicating the question. "To the extent it is a private vehicle, you are entitled to have whatever passengers (are) with you," he said. But if they are not in the car, or if the vehicle owner is charging passengers to come with him, then that is an infringement of the ferry franchise, Sprehn said.
There are some exceptions to the ferry franchise too, he said, including water taxis with fewer than 10 passengers and privately chartered boats, he said.
Cole presented the PSC's FY17 budget of $1.78 million, a slight increase over last year. The PSC is funded through levies on the utilities it regulates.
Patrick Farrell, director of the Office of Veterans Affairs, also testified in favor of his small agency's budget of $884,000. Of that, $350,000 is to cover personnel salaries and fringe benefits; $117,000 for operating expenses and$300,000.00 to cover medical travel and death benefits.
The Office of Veterans Affairs compiles data concerning veterans; informs veterans of available benefits regarding employment, health, education, homeownership and burial; and assists them in processing and filing claims. It also coordinates with local and federal agencies regarding matters of interest to veterans and recommends legislation to the governor affecting veterans and their families.
No votes were taken at the budget oversight hearing. Present were Sanes, Roach, Sens. Marvin Blyden, Clifford Graham and noncommittee member Sen. Justin Harrigan. Absent were Sens. Kurt Vialet, Positive Nelson and Myron Jackson.