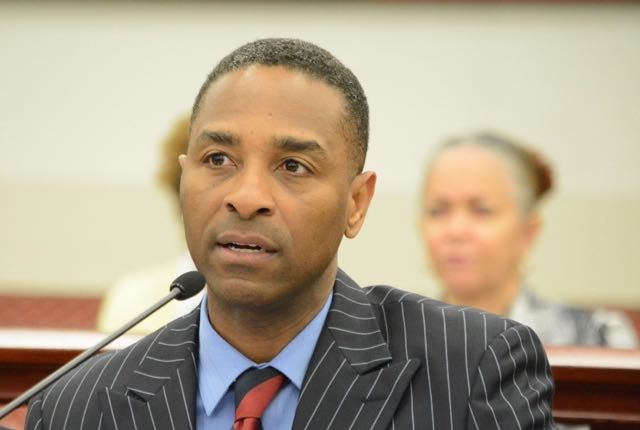 Child support payments are up substantially since the Department of Justice ramped up enforcement efforts, Attorney General Claude Walker told senators during budget hearings Wednesday. And carrying out the threat of suspending business licenses of seriously delinquent parents has helped boost compliance, he said.
Walker said Justice has been working with the Department of Licensing and Consumer Affairs to use business licenses as an enforcement tool. Since they began working together, "there have been 23 license suspensions and an additional 25 more are pending revocation for those noncustodial parents who have balances of $2,500 or more and that have not either paid or entered into a payment plan," he said.
"But, more importantly, the amount of outstanding uncollected child support money has significantly decreased," Walker said.
The Paternity and Child Support Division has increased distributed child support collections by 9.3 percent during the Oct. 1 to Dec. 31, 2015, fiscal quarter and by 12.7 percent from for the Jan. 1 to March 31 fiscal quarter.
Some senators expressed concern about taking away business licenses. Sen. Sammuel Sanes said he used to work with children before he was a senator and had a first-hand understanding of the importance of father's paying child support. But he said the possibility of shutting down a business that employs, say, seven people, also concerned him.
"Taking away his business license, those seven individuals' jobs, that is something to think about," Sanes said.
Walker said, "You can't be an angel at work and a devil at home."
"You have to bear in mind that, this is not something we want to do, but these persons – we have written to them, we've called them, we have begged them, pleaded with them to take responsibility for the financial well being of their biological children and they have refused or failed to do so," he said.
Sen. Marvin Blyden asked if garnishing wages could be an alternate option.
Walker said the license suspensions are the last resort after multiple attempts to contact the person and get them to make arrangements.
"There isn't anything else for us to do but to use the statute, use the law that the Virgin Islands Legislature has provided to us to take action when we have parents who refuse to take care of their children," he said. Walker said the Justice Department needs more prosecutors to help cut into the backlog of criminal cases.
"I cannot emphasize enough our need for more prosecutors to staff the Criminal Division," he said. "To give you some perspective, several years ago there were 12 attorneys working in the St. Thomas office alone compared to only six today—and that includes the chief of the division, who is not only responsible for the day-to-day activities of the department, but who is also carrying a full courtroom caseload. We desperately need at least six to seven more to be able to function at maximum capacity," he said.
Walker presented the Department of Justice's budget request for Fiscal Year 2017 of $20.2 million. Of that, $14.4 million is from the General Fund and another $825,000 is from the miscellaneous section of the budget, including funds from the Special Crime Prevention and Prosecution Fund, which consists of court fines, fees and forfeitures. And $4.94 million is from federal funding.
No votes were taken at the information-gathering budget oversight hearing. Difficulties with flights caused several senators to be absent. Present were Sanes, Blyden, Sens. Clifford Graham and Tregenza Roach. Sens. Kurt Vialet, Myron Jackson and Positive Nelson were absent.