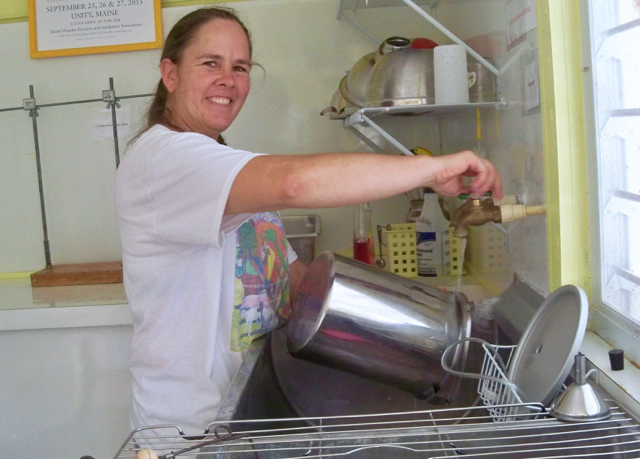 The 15 goats at Fiddlewood Farm, deep in the rain forest in Estate Plessen, aren't like thousands of other goats on St. Croix used for meat. These are milk goats that Bethany Bradford has raised and milked by hand since 2012.
Bradford has the only goat milk and cheese farm on St. Croix. She is making goat-milk cheese in an authentic cottage industry right outside her cottage back door, and she did it with out much seed money invested.
It helps that she has been a practicing veterinarian since 1997 and can manage the health care of her animals, giving vaccinations, de-worming, hoof trimming and breeding livestock. She is the state veterinarian for the V.I. Department of Agriculture and works at Duke Deller's veterinarian office in Frederiksted. On top of all that she is very fond of goats.
Bradford named her farm for the fiddlewood tree that blooms with fragrant little white flowers hanging in clusters that surround her hilly and lush five acre plot.
The goats are guarded by a huge dog – a male mix of Anatolian shepherd and Great Pyrenees weighing about 150 pounds – and a three-pound teacup-size Chihuahua. The Chihuahua, which barks the first warning and makes more noise than bigger dogs when anyone comes near the house, slips easily through the gate on the front porch of the rustic little West Indian wood cottage that Bradford had built around three years ago.
The milking and cheese production takes place in her backyard on a large concrete slab – the only thing left of a chicken house demolished by Hurricane Hugo.
The concrete yard is practical, making it easy to keep everything clean and scrubbed, including the milking parlor across the yard from the spotless little cheese house where the cheese is produced and refrigerated.
Bradford milks just two nannies once a day, getting up to two gallons of milk per day. She said she usually gets around nine gallons a week. In a week Bradford can fill around 36 five-ounce plastic containers with the soft delicately flavored cheese. Her assistant from the DOA, Ayanna Simon, works part-time for Bradford at the farm.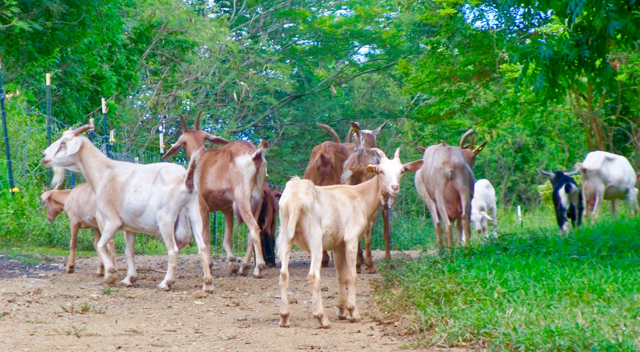 The biggest challenge Bradford has is finding time for the upkeep of the farm. She said there is always something to keep her busy. She hopes to increase the number of goats she is milking to around seven a day.
"This fits nicely into a retirement plan," Bradford said. "It's a totally viable business."
"The best part about raising goats is being outside in nature and in the bush," Bradford said. "I'm staying active and getting exercise while working with the goats." She added she loves goats and said "who doesn't love a cute baby goat?"
"I've always loved goats," Bradford said. "They have a lot of personalty and milk goats are more personable than meat goats."
Bradford learned the craft of cheese making while working at Sealcove Farm in Maine and the Coach Farm in New York. Bradford moved to St. Croix before Hugo hit in 1989 and she has lived and farmed on St. Thomas. She attended the University of the Virgin Islands.
The Chevre goat cheese in five ounce plastic tubs, can be ordered online at primeproduce.locallygrown.net and picked up at Violet Drew's farm stand in Lower Love. Or it can be purchased at the ARTfarm in Estate Longford on the Southside Road.
Those who wish to make special orders can call Bradford at 340-332-1062.