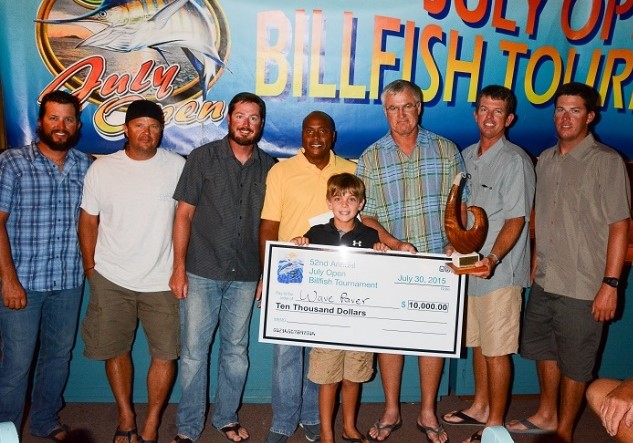 The 53rd July Open Billfish Tournament (JOBT) is the longest, annually-held angling contest in the Virgin Islands. It put the V.I. on the world's billfish map with Elliot Fishman's all-tackle world record 845-pound blue marlin in 1968. A fleet of 10 to 15 boats from St. Thomas, St. Croix, Puerto Rico and the U.S.A. with 60-plus of the world's best anglers are expected to compete in the tournament, hosted by Virgin Islands Game Fishing Club (VIGFC) and set for July 17-19.
"The Virgin Islands Game Fishing Club would like to welcome members and traveling anglers to participate in the 53rd Annual July Open Billfish Tournament," said tournament director Kevin Haddox. "The club would like to thank our members and sponsors for the constant support that help drive the competitive nature of our tournament. The North Drop bite has once again fired up with nice numbers of fish being seen and some big ones mixed in. Please come and fish with us and win the prestigious 'Give Him Line' perpetual trophy award."
Last year, the team aboard Wave Paver, a 61 Garlington homeported out of Port Canaveral, Fla., earned Top Boat with the release of seven blue marlin in three days. Wave Paver owner JR Davis released six of Wave Paver's blues to earn this prestigious award for Top Angler.
Anglers will set their sights on catching and releasing the most blue marlin, white marlin and sailfish to win cash and prizes. The JOBT is an all-release tournament. No fish will be boated or brought to the dock for weigh-in.
New this year, instead of observers, anglers will be given cameras with a different color ribbon each day of the tournament to document and verify catch and releases.
Final registration and the tournament Kick-Off Party will take place from 7-10 p.m. on July 16 at the VIGFC club house in Red Hook. All registered anglers will receive complimentary UV-protective shirts with Carey Chen artwork, bags, hats, calendars, face buffs, pens, lip balm and Turvis tumblers. This will be the same venue for the Awards Banquet on July 19. Winners will receive exquisite hand-carved marlin head trophies by artist David A. Wirth.
Lines will go in the water at 8:30 a.m. and out at 5 p.m. except on the final day of the three-day tournament when lines out will be at 4 p.m.
The public is invited to greet the fleet as the boats come back to the dock around sunset. The number of flags flying on the outriggers indicates how many billfish the boat's anglers caught and released for the day.
Past winners of the prestigious Capt. Johnny Harms 'Give Him Line' Trophy read like a Who's Who of blue marlin sport fishing. Only two anglers have reeled in this honor two times: the late Howard Crouse in 1965 and 1988, and Puerto Rico's late, legendary angler Ralph Christiansen in 1973 and 1984.
For more information and to register, visit: www.vigfc.com or call 775-9144. Also visit Facebook.