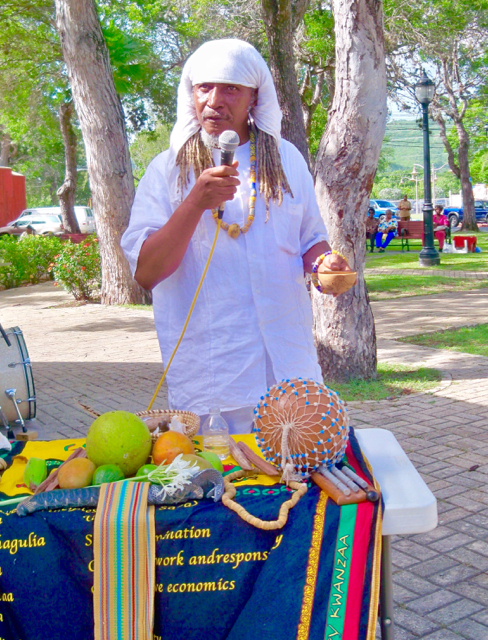 Hugh Clark blew hard through his conch horn Sunday at Buddhoe Park. The sound that echoed through the streets was a reminder to the 100 people in the park of that day 168 years ago, when that sound was a call to action as General Buddhoe led an uprising that won freedom for all slaves in the territory.
This time it was a call to listen to speeches and exhortations to take action at an Emancipation Day celebration organized by History, Culture and Tradition Inc.
Many of the speakers emphasized a theme that one way to show respect for the sacrifices of ancestors is, in the words of Carl Christopher, who did the libation ceremony, "to liberate ourselves."
"People before us paved the way for the direction we must go," said Richard Nicks, master of ceremonies for the event.
Greg Richards, president of History, Culture and Tradition Inc, said this year's event was focused on youth. He pointed out that the celebration in Frederiksted was a three-day affair. It started on Friday when Gov. Kenneth Mapp hosted an Emancipation Day gala for 200 invited guests at Government House West. The event will conclude at 8 p.m. Monday at 8 p.m. with a fireworks display in Frederiksted harbor.
Sunday's event was not all about speeches either. Geron Richards read a poem. Music was provided by Mind Body and Soul, under the direction of Reginald "Rookie" Jackson; and Supreme Court's Rising Stars Steel Pan Orchestra, and 13-year-old Kevin Williams Jr. gave a solo steel pan performance.
At the nearby United Caribbean Association center and restaurant, children took part in activities and art projects.
Sunday's observance began at 5 a.m. as Sen. Positive Nelson led the annual Fort-to-Fort walk.
Nelson said that 240 participants did the complete walk and 700 people participated.
"It is importance to bring remembrance to the efforts and sacrifices made on our behalf. We must accept responsibility to make preparations, today, for the generations to come," Nelson said. "If our young people would know the amount of bloodshed and suffrage went into getting and protecting our inalienable freedoms …maybe … Just maybe they will live more constructive lives."
Buddhoe was also known as Moses Gottlieb. More details about his life are available by clicking here for a document from the University of Virgin Islands Digitalized Archives.