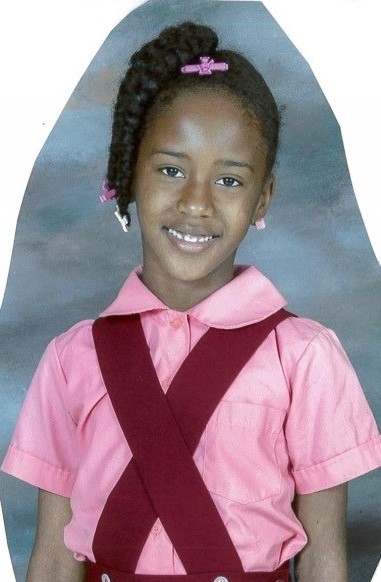 Jah-Marie Damaris Tynisha Malone Dimmer of John F. Kennedy Housing Community died on June 25. She was eight years old.
She is survived by her mother, Gloria Lanell Dimmer; father, Ali Andrew Malone; grandmother, Shelmerdine Malone; adopted grandmother, Glenda Giron; sister, Jackayla Malone; aunts: Jamarica Janell Dinner and Elsa Malone; special aunts: Greta Archibald, Temara Henore, Shantal Rivera and Ninafe Awong; great aunt, Trudy Dimmer; uncles: Clive and Collin Malone; special uncles: Rafael Rivera and Glen Awong; and great uncles: Donald and Pappy Francis.
She is also survived by special godparents: Eastlyn Queeman, Naomi Gumbs, Linel Williams, Theresa Valmond, Kerlen Flemming, Elsie Monsante, Christina Acoy, Reva James, Eleanor Parris, Cathy Mason and Christal Ruiz; special friends: Shadea Martin, GraceMarie, Fernando and FéMarie Martin, Ejaaz Myers, Talisa Bennett aka "Boongie," Zulime aka "MiMi," Alexander Walcott, Jaling Awong, Kaili Awong, Eve and Elizabeth Flemming, Daniel King and Farrel King; and cousins and other relatives: Rema Vanterpool, Letisia Williams-Thomas, Tarrique Williams, Dashawn, Moses, Maxwell, Javon and Simone Malone.
Other survivors include special cousins: Joshua Phillips, Elisa and Eyron Rivera, and others too numerous to mention; special families: Church of God Prophecy, Sis Beazer's Sunday School Class, Juanita Gardine Elementary School and Girls Basketball Team, OCCRS- Human Service, Department of Labor and Charlene Williams, Domino Pizza, Catholic Charities, Women Coalition and John F. Kennedy Housing Community; as well as other relatives and friends too numerous to mention.
There will be a viewing at 9 a.m. followed by a funeral service at 10 a.m. on Friday, July 8, at Church of God of Prophecy. Interment will be at Kingshill Cemetery.
The family has requested that those in attendance wear festive colors.
All arrangements are by James Memorial Funeral Home Inc.