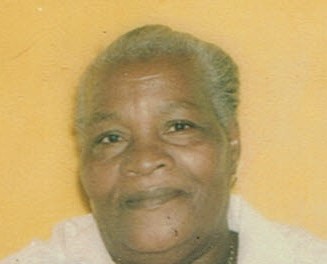 Dorothy Bramble of 554 Barren Spot, formerly of 130 Williams Delight, died on Saturday, June 11, at Governor Juan F. Luis Hospital.
She leaves to mourn her daughters: Agnes Wallace, Histella Bramble, and Anne Johnson-Bramble; sons: Raphael Bramble and Fredrick Bramble; nine grandchildren; three great-grandchildren; daughter-in-law, Stacy Rivers; granddaughter-in-law, Debbie Wallace; sons-in-law: Hubert Johnson and Renford Wallace; sister, Muriel Tobias. nieces, nephews and other relatives too numerous to mention in Trinidad, Grenada, the United States and Canada. special friend, Madora Agustin; other friends: Shirley Murren and family, Dialysis T.T.S. shift, Dr. Khan, Dr. Tawakol, Dr. Lekram, the other staff members and Dr. Perez.
The family of Dorothy Bramble would like to thank the EMS staff, the 911 dispatchers, the doctors, nurses and the other staff at the Juan Luis Hospital and all the friends and co-workers for their love and support in our time of sorrow. Please wear festive colors.
A viewing will be held from 3-5 p.m. on Thursday, July 7, at Divine Funeral Service Chapel. A viewing at 9 a.m. will be followed by a funeral service at 10 a.m. on Friday, July 8, at St Ann's Catholic Church, 42 Barren Spot. Interment will be at Kingshill Cemetery .
Arrangements are entrusted to Divine Funeral Services and Crematory. We own and operate our own crematory. Let us offer you a Dignified Funeral, affordable by all. Tel: 773-0003/fax: 773-3003.