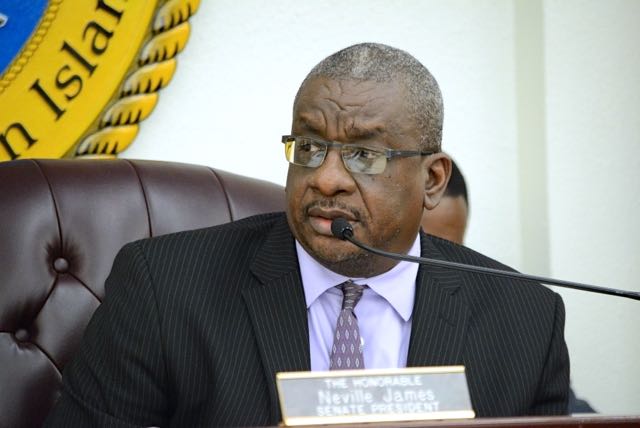 Senators used a $1 million appropriation for vague, unspecified groundwork to attract St. Croix hotel investment as a vehicle for new appropriations to nonprofits and putting steel roofs on basketball courts during session Wednesday.
The legislation requested by Gov. Kenneth Mapp calls for $1 million to pay for "professional services, studies and expenses related to the planned development and financing of The St. Croix Brand Hotel Project. [Bill 31-0375]
When the bill was first heard in committee June 24, Public Finance Authority Director Joanne Bozzuto told senators there was no line-item budget and that expenses were broadly related to the need to "build a relationship with China." She said when Mapp and administration officials went to China in late May and early June, they "met with Chinese hedge funds who have high, high net worth clients."
Pressed for details of what the money was for, Bozzuto said on June 24 that she thought "part of the money is to pursue all options to bring equity investments into the territory."
Concerned over the absence of detail for what the money was to be spent on, senators amended the bill to require the administration to report back to the Legislature within 60 days of spending the first $400,000, then to report twice more, after spending another $300,000 and the final $300,000. They also added an amendment to require the administration to attempt to get a small hotel near the St. Croix airport, as it spends money in an unspecified way to entice wealthy Chinese individuals to invest in St. Croix.
Most of the senators said they were satisfied with the new reporting requirements, but three – Sens. Positive Nelson, Tregenza Roach and Janette Millin Young ultimately voted no, citing the lack of detail on what the money was for.
"A million dollars does not build a hotel," Nelson said. "Without a clear explanation of how you intend to spend it, it raises enough questions for me not to support this bill," he said.
Senators also used the bill as a vehicle for about $2.6 million in new appropriations and changes to several other laws and legislative acts.
Senators approved an amendment from Sen. Sammuel Sanes appropriating $1.5 million from the various district road funds to the Department of Public Works for road repairs, and another $1 million to put steel roofs on basketball courts in St. Croix's Estate Grove Place and Estate Profit, and in St. Thomas' Emile Griffith ballpark.
Of the road funding, Sanes said that when "it comes to fighting crime" many factors are involved, and "one of them is offering employment." Sanes said the $1.5 million would allow Public Works to hire more than 100 people throughout the territory for cleaning up waterways, painting and roadside cleanup.
Mapp had vetoed legislation to roof ballparks, saying the source of funding was already used. Sanes' amendment changes the source of funding and adds a St. Thomas ballpark to the original mandate.
Another amendment from Sanes changed the way traffic ticket revenues are divided to place 20 percent of the proceeds in the Government Insurance Fund, reducing the portion for the V.I. Police Department.
With amendments affecting appropriations to nonprofits from the newly created Legislative Community Reinvestment Fund, senators also added $45,000 in funding for the St. Croix Landmark Society for Whim Museum; $30,000 to the Crucian History and Nature Tourism organization; $6,000 for USVI Stars and Stripes Poker Run, a nonprofit organization's boat race; $6,000 for Saint Hope: Help Our People Emerge; $5,000 for Calypso Inc.; $2,500 to the Central High School Marching Band; and $2,500 to the Frederiksted Sailing School. At the same time, they removed $10,000 that had been set aside for vocational programs at St. Croix's Youth Rehabilitation Center.
Sen. Nereida Rivera-O'Reilly said she had understood that every senator would get equal amounts of funding to dole out to nonprofits and asked how new appropriations could be added after that had already happened.
Sen. Justin Harrigan similarly said he had understood "each senator had $6,000" they could dole out to nonprofits out of remaining funds and that "it's an indication we are not playing fair."
Sen. Neville James said the fund had $156,000 left in it after the initial appropriations, and many nonprofit organizations had come forward with requests. He said an agreement was reached to give $45,000 to the Landmark Society and after several other appropriations, there was still about $80,000 for senators, giving them about $6,000 per senator. The $30,000 for CHANT was requested by five senators, he said.
Another amendment, from Sen. Jean Forde, changes V.I. zoning law to allow nurseries and daycare centers in places zoned C-Commercial.
"An individual wants a daycare baby sitting business in the mall," Forde said. But the C zoning designation does not allow this, even though other businesses involving children are allowed and already there, he said.
An amendment from Roach allows scholarship funding set aside for V.I. valedictorians and salutatorians to be spent on adult continuing education. And one from Sen. Novelle Francis specifies that DNA samples are to be taken by "using the buccal swab method only." Buccal swabbing is swabbing the inside of a person's cheek and is considered one of the least invasive methods.
One from Sen. Almando "Rocky" Liburd changed the terms of a 20-year ferry franchise for Varlack Ventures and Transportation Services to run ferries from St. Thomas to St. John. The change specifies that any change of ownership of the companies is void without Public Services Commission approval. Mapp vetoed the franchise citing the ownership issue and senators unanimously overrode the veto earlier in Wednesday's session.
Voting to pass the heavily amended bill were Forde, Francis, Graham, Harrigan, James, Liburd, Rivera-O'Reilly, Sanes, Sens. Marvin Blyden, Kenneth Gittens, Myron Jackson and Kurt Vialet. Voting no were Nelson, Roach and Millin Young.