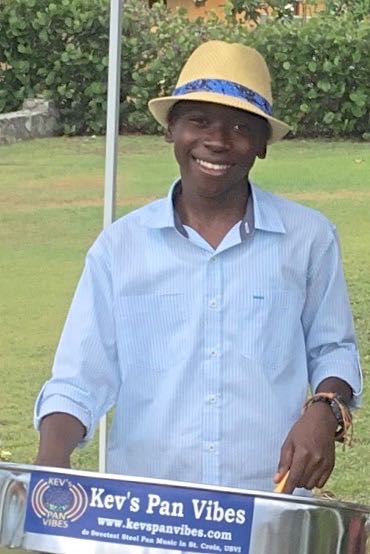 Jewels of the Virgin Isles is a monthly feature series profiling Virgin Islanders in the diaspora who are excelling in their respective fields and/or positively representing the USVI abroad.
Given the way that our society views success and achievements, it can be easy to assume that one must be older in order to make an impact or acquire certain accomplishments in his or her lifetime. However, Kevin Williams Jr. is making his mark on the Virgin Islands community in a big way, right now, at the young age of 13.
A talented steel pan player from St. Croix, Williams accompanied international reggae artist Pressure Buss Pipe (Pressure) on the stage during the 2016 St. Thomas Carnival in April. Williams' unforgettable performance with his rendition of Pressure's mega hit "Virgin Islands Nice" was so exacting and soulful that it went viral on social media after his solo left the reggae star literally speechless.
Williams, the owner of Kev's Pan Vibes, is building his musical brand, playing at weddings and special events throughout the Virgin Islands, and has been tapped to join Virgin Islands legends and musical ambassadors Stanley and the Ten Sleepless Knights for a cultural extravaganza in Denmark later this summer.
Additionally, Williams, who previously attended St. Patrick Catholic School and Arthur A. Richards Junior High School, is preparing to enter his freshman year in the magnet program at the St. Croix Educational Complex in September.
Despite his busy schedule, Williams is an honor student who takes his educational and musical careers very seriously. "I want to be a pediatrician and a professional music performer," Williams says. "I am interested in going into medicine because I want to help people."
He said that when he was younger, his grandmother was in an accident. "I feel that by helping children or adults, it will be like helping her."
Williams began playing the guitar in the first grade under the tutelage of Elvis Pedro and later developed his prowess for the steel pan with lessons from Noel Wynter, his primary pan coach, at St. Patrick Catholic school. He further developed his pan skills as a member of the Rising Stars Youth Steel Orchestra on St. Croix for two years under the direction of Henry Potter. Williams is also the captain of the St. Patrick Steel Orchestra known as the "little band with the big sound." He credits music manager Wendell "Boyo" Parris, Calvin Whyte and Eugene "Doc" Petersen with instructing him in the business of becoming a professional musician/performer.
With the help and guidance of his father, Kevin Williams Sr., who manages his budding career, the younger Williams launched his business after performing in a local talent show.
"I got the idea to start my own business and then got a grant from the Virgin Islands Council on the Arts," Williams Jr. states. He credits his father as being his inspiration and an example of someone who reaps the rewards of his hard work.
Williams – who also makes time for his hobbies such as baseball with the Cubs Little League team, playing his Xbox and basketball with friends – displays a level of maturity uncommon for someone his age, but he takes his newfound celebrity in stride.
"Since my performance with Pressure in the Village in St. Thomas, a lot more people have come to me and said hi…I've gotten a lot more famous in school. My friends don't act like I am a star like Beyoncé or Bruno Mars … or like they are catching a ride with the music star. They just want to be my friends."
Williams loves the culture, music and festivities of his home and wants to see a music school built locally for students who desire to study music.
His strong sense of faith is evident in one conversation and he is charting a future that is getting brighter by the second. Williams will be working on an upcoming Christmas album this summer to showcase his range of musical genres – be it quelbe, soca, classical or Jewish music – and plans to find the right balance between his studies and his music career. He and his four siblings reside on St. Croix with their mother Wanda and father Kevin. For more information on Kev and his music business, contact him at Kevign@gmail.com, Facebook.com/kevspanvibes, or Twitter and Instagram @kevspanvibes.
Nugget for V.I. Youth: "I have to say to the youth stay strong, work hard, and never give up on what you like."
Little Known/Fun Fact(s): "I sing and play guitar in a band [on St. Croix] called Junya Krewe."
__
Loán Sewer is a marketing and tourism branding consultant and proud Virgin Islander who resides in Charlotte, N.C. Follow her on Twitter @LoAnSewer or e-mail her at info@gobiconsulting.com.