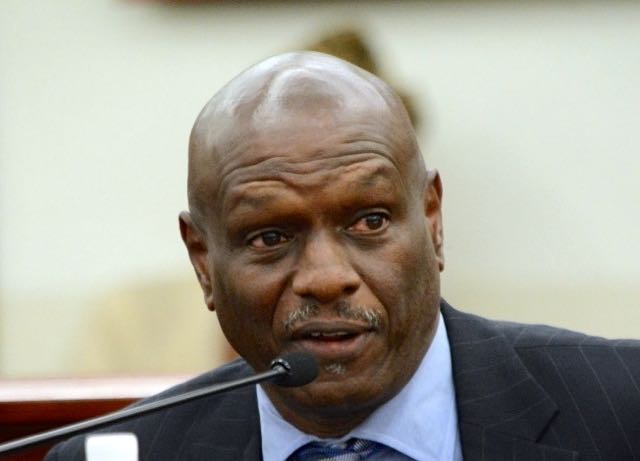 If current trends continue, the territory will see an estimated 1.65 million cruise passengers and 975,000 air passengers in Fiscal Year 2017, V.I. Port Authority Executive Director Carlton "Ital" Dowe told the Senate Finance Committee during budget hearings Tuesday. That's a drop of more than 125,000 cruise passengers over what is projected by the end of FY16 and more than half a million fewer than the 2,083,890 cruise passengers in 2014.
Some of the decline is the result of ships being taken out of service and put in drydock for repairs, according to VIPA Chief Financial Officer Donna Frett-Gregory. Others have been rerouted to other destinations around the world.
Frett-Gregory said St. Croix waived fees for ships for a number of years to attract more, but is not currently, which may have cut into St. Croix's traffic.
Sen. Kurt Vialet asked if there is a drop off in ships to St. Croix from 2016 to 2017.
Frett-Gregory said there was a drop of roughly 16 ships, to around 32 for the season.
"But remember in the past we were not seeing a fee. We will now be collecting a fee," she said, while acknowledging that the reduction in cruise passengers means less spending in businesses on St. Croix.
Dowe presented preliminary budget figures, cautioning that it has not yet been approved by the VIPA governing board. VIPA is semiautonomous and self-funded through its fees. It has 354 employees.
Projected operating expenses for FY17 total $45.2 million, a 3.83 percent increase from last year. Of that, $26.2 million is payroll; $2.8 million for maintenance; $1.7 million for supplies; $5.2 million for professional services; $5.6 million for utilities; $2.5 million for insurances; $510,000 for travel; and $693,000 for other expenses.
No votes were taken. Present were Vialet, Sens. Marvin Blyden, Clifford Graham, Novelle Francis, Myron Jackson, Sammuel Sanes, Tregenza Roach and Positive Nelson.