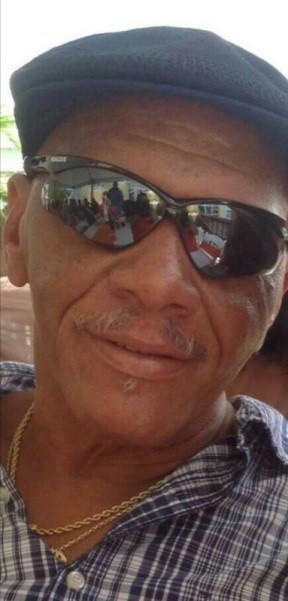 Howard Lincoln Harvey, also known as "Cow," of Catherine's Rest died on June 23 he was 59 years old.
He is preceded in death by his father, Clarence Daniel Harvey Sr.; son, Darnel Harvey; brothers: Arnett, Kenneth, Clarence and Gene Harvey.
He is survived by his mother, Maria Elisa Howell Harvey; grandchild, Armani Harvey; sisters: Rita Harvey Henry, Albertha Benson-Harvey, Ava Patricia Harvey, Lynne Marie Harvey Williams and Renee Berecia Harvey Kanu; brothers: Gustave Valdemar Harvey, Wayne Elton Harvey and Rudel Anthony Harvey; nieces: Kishma, Sonora,Barbara, Stephanie, Gina, Gisselle and Maria Harvey, Shenelle Henry- Cuencas, Rasheeda, Mackia and Maria Kanu; nephews: Laurence, Dwayne, Bryan, Andre'and Geno Harvey, Lloyd Henry Jr., Richie Dee, Kenneth Harvey Jr., Rudel Harvey Jr., Gene Harvey Jr., DeShawn and Shane Williams, and Ashworth Williams Jr.; great-nieces and nephews: too numerous to mention; uncle, Thorvald Slater; brothers-in-law: Lloyd Henry, Ashworth Williams and Ibrahim Kanu; and sisters-in-law: Sarah Harvey and Verna Harvey; godchildren: Chivonne Motta, Oteemia Daniels and Aliyah Messer.
He is also survived by special friends: Earle Roebuck, Harold Roebuck, Barbara McIntosh, Suzie Bough-James, Colleen Williams, Clarice Krieger, Richie Motta, Diane Gordon, Pam Samuel, Coleen Hodge, Marc Biggs, Eladie Jacobs, Charlita Schjang, Paulette Edwards, Karen Blake, Angie Gautier, Marla Matthew, Josephine Hector, Lynne James, Darwin Simmonds, Brenda Charles, Zahra O'Reilly, Georgie Chiverton, Lisa Bough, Bonnie Brooks, Wayne "Bynoe" Trotman, Craig "Psycho" Oversen, Charles Sealey, Ricky Messer and Wilfred Williams Jr.; cousins and other relatives: Harvey, Nesbitt, Kiture, Simmonds, Thurland, Petersen, Hansen, Horton, Johnson, Danielson, Lang, Eugene Lewis and family, Olive Ford and family, Henry Christian, Gerard, James Martin, Nielsen Slater, Howell, Gallows Bay family, Carmen Mills, and Claudius and Annie Day Henry; as well as other relatives and friends too numerous to mention.
A viewing will take place at 10 a.m. followed by a funeral service at 11 a.m. will be held on Thursday, June 30, at Lord God of Sabaoth Lutheran Church. Interment will be at Kingshill Cemetery.
All arrangements are by James Memorial Funeral Home Inc.