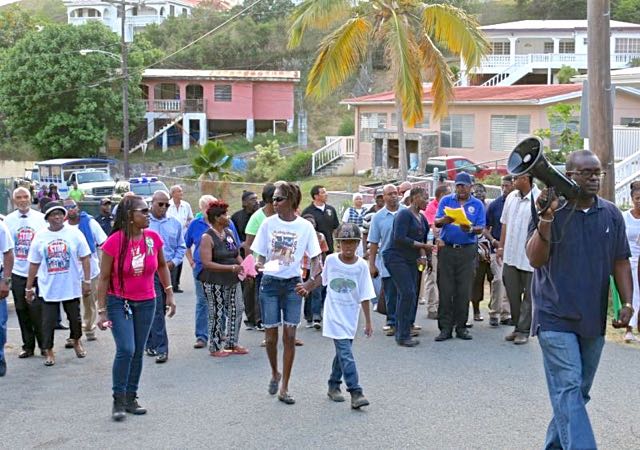 Shouting through a bullhorn hoisted to their mouths, members of the clergy marched into the Hidden Valley housing community on St. Thomas on Friday and demanded residents put down their guns in an effort to bring peace to the V.I. community.
"Put down your guns, put down your swords and put down your anger," Pastor Samuel Weeks shouted to the shadows of residents looking through windows or gathered outside their apartment doors. "We got the answer and the answer is not in the guns. We need your help to bring peace to this island."
Saturday's march, also attended by several federal and local law enforcement officials, senators and community members from across the island, comes after back-to-back shootings in the area claimed the lives of at least three young men living in Hidden Valley buildings 10, 14 and 22. On June 5, a shootout near Choice Market across from Holy Family Church left dead 21 -year-old Shaki Alexander and 19-year-old Kerven Joseph, while an argument between acquaintances on June 12 claimed the life of 22-year-old Ojahnia Adkins, whose body was found in one of the stairwells.
The names of the dead were called out over the bullhorn by several speakers that prayed and sang hymns in remembrance while also offering up strong messages for peace.
"To all of my neighbors in Hidden Valley, if you hear my voice, we grieve just like you grieve when you lose a young man," said apostle Alger B. Warren, who heads the Faith Fellowship Alive in Christ Church in Hidden Valley. "But the only way that the violence will stop is if hearts are changed, so we're asking you to come out and change your hearts."
Warren and Weeks told residents that they were there to help "facilitate change."
"We know you don't want to die and we are here to help make a change, but the only way to stop is to change our hearts," Warren said. "Hatred, violence and murder is not who God called you to be."
"We are to walk in brotherly love," he continued. "What happened to our community? If you are my neighbor and I see you in trouble, I should help you and you should help me. But that's not what's happening here."
Warren asked, "Does it take another seven lives to go? It should not," he answered. "We should be ready to make a change now and, instead of listening to me from behind the walls, you should come out and join us."
Other speakers, such as former Sen. Clarence Payne, also spoke about more peaceful times on St. Thomas, when children from different neighborhoods played together without issue.
"How many more?" Payne called out. "You know what's breaking my heart right now is that we never saw this when we were children. We used to play in Ras Valley from Bovoni all the time. Nadir to Tutu, we even used to walk safely to McBean (ballpark) at 11 o'clock at night down the street. Can our children even fathom that today?"
Payne said the violence in the territory is playing out against a national debate over gun reform and that stronger laws are needed to get the guns off the streets.
"To think right now that there are billionaires paying off politicians not to enact gun reform in America, which is allowing people to walk around with AK-47's at will, as if they're a popsicle or a pack of cookies," Payne said. "It's hurting us. It's hurting us even here."
Several speakers also offered alternatives to any residents listening as the group marched on, including giving out their phone numbers to anyone that wanted "to talk." Putting in place programs for vocational training, making efforts to get young men back into night school or getting them in contact with tradesmen for apprenticeships were also discussed by the clergy, who left Hidden Valley around 6:30 p.m. to continue marching further into Tutu and the surrounding areas.