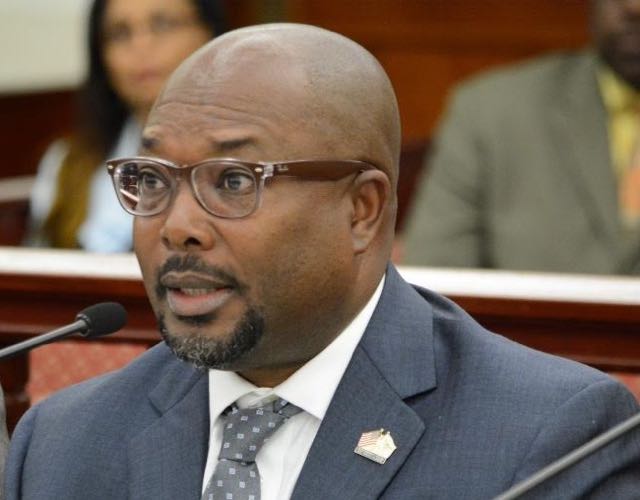 Property and Procurement Commissioner Randolph Bennett asked the Legislature for another $21 million, on top of the department's total Fiscal Year 2017 budget of $15.4 million, during budget hearings Tuesday. The money would go to make buildings safer and to a hoped-for auto racetrack on St. Thomas.
The funds may not be available, in light of a budget deficit of about $110 million that the government hopes to fill with new and refinance borrowing. (See Related Links below)
"We respectfully request your approval to increase the FY17 budget of the Department of Property and Procurement by $12 million to meet the requirements to ensure their safe working environment," Bennett said. That amount would be needed to get V.I. Government buildings in compliance with U.S. Occupational Safety and Health Administration standards, he said.
Another $9 million would be needed if the department is to pursue the creation of a new auto racetrack on St. Thomas and make improvements to the racetrack on St. Croix, he said.
"If our budget is approved without the requested amounts, we will not have funding for the racetrack and facility repairs," he said.
Gov. Kenneth Mapp's FY17 budget for Property and Procurement recommends $3.2 million from the General Fund for operating expense. The department expects another $4.4 million from rent and other local income and a $7.8 million miscellaneous appropriation for insurance on government properties, for a total appropriated budget of $15.4 million.
University of the Virgin Islands President David Hall presented UVI's budget request of $34.4 million. That is $2 million more than Mapp's recommended appropriation and $4.7 million more than the FY16 appropriation.
Public Works Commissioner Gustav James presented that department's budget request for $20.9 million and gave updates on various road and construction projects throughout the territory.
James said the long-awaited Paul E. Joseph stadium project in Frederiksted "is back on track after a brief halt to revise the contract." He said the "project is now back on schedule" and designs are "60 percent complete."
"Plans are currently being reviewed and a cost estimate is being prepared for lump sum contract negotiations."
Sen. Sammuel Sanes said the project has been taking too long to start.
"It has been on the books for eight years. … At one point or the other we are going to have to do something," Sanes said.
"It is coming. What we are looking at, it is going to be a premier facility," James said. "There are other issues, in terms of expanding the land area, but that project, I am telling you, is going to be a very successful project," he said.
No votes were taken during the information gathering budget hearing. Present were Sanes, Sens. Marvin Blyden, Clifford Graham, Myron Jackson and Tregenza Roach. Non-committee member Nereida Rivera-O'Reilly also attended via Skype.