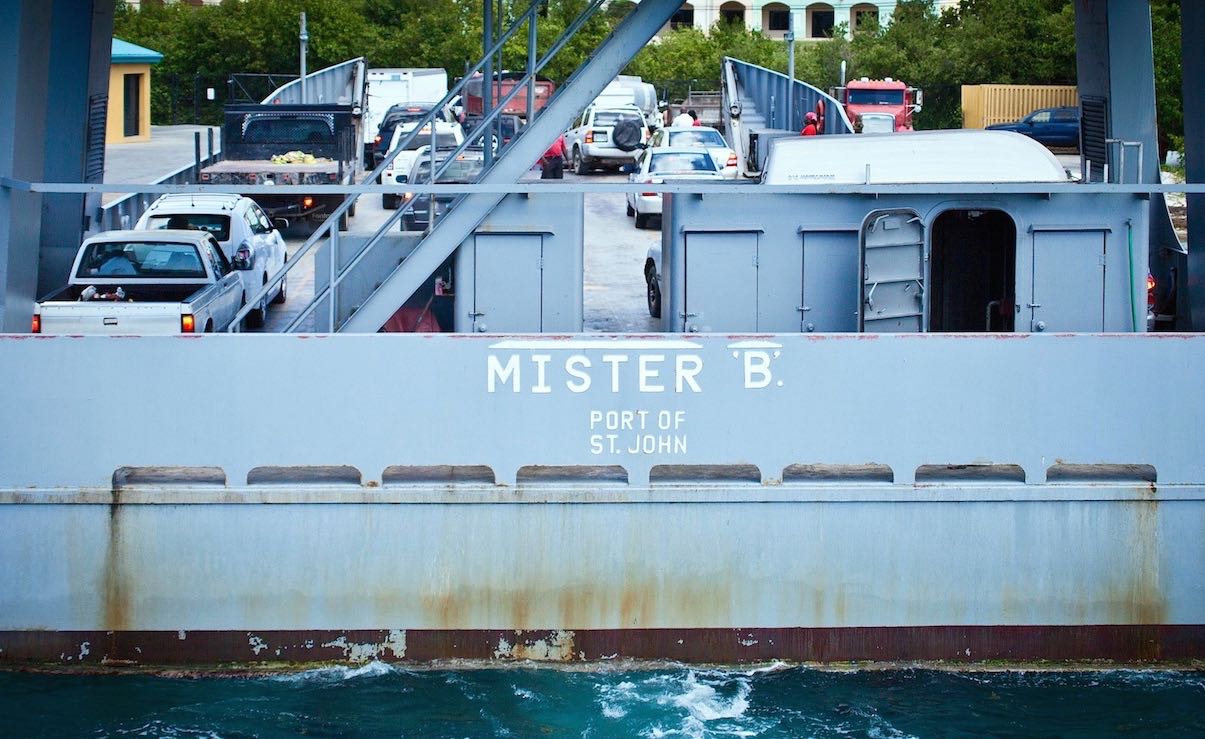 V.I. Port Authority Executive Director Carlton Dowe said Tuesday that VIPA is in discussions with barge companies regarding slightly extended hours that may relieve the congestion that has been impacting barge service between Red Hook and Cruz Bay since the beginning of the year.
Dowe spoke to a room full of St. John residents at a public meeting at Cruz Bay's Legislature annex.
Barge passengers have reported increased lines and wait times since the seizure of the M/V Mr. B in January as part of a court case against the boat's owner Boyson Inc. (See Link: Mister B Barge Seized, Traffic Snarls).
Barge companies Love City Car Ferries and Global Marine have been working to fill in the gaps in service left by Boyson's absence but, according to Dowe, VIPA has been receiving an elevated number of phone calls from residents frustrated with barge service between St. Thomas and St. John.
The V.I. Port Authority does not own any of the barges but manages the terminals from which they arrive and depart and sets the car ferries' schedules.
Dowe said that immediately prior to Tuesday's public meeting, he and Port Authority staff met with representatives of the barge companies in a closed meeting, also at the annex, to "speak frankly about what can be done to improve service."
Although no plan was finalized, Dowe said barge companies are being asked to consider introducing additional trips after 7 p.m., currently the last barge run of the day. The authority is willing to consider keeping barge terminals open to accommodate a 9 p.m. run, Dowe said, but an 8 p.m. run would likely be introduced first to "test out" a later schedule.
"We have to bite the bullet and try to accommodate the commerce and the people of St. John," Dowe said.
He told residents that during the closed meeting at least one barge company had agreed to consider a later barge run and VIPA has asked the companies' recommendations to be put in writing for official consideration.
Dowe also said VIPA has told barge companies it is temporarily relaxing schedules to allow boats to make runs as soon as there is enough cargo to move, rather than being mandated to depart on the hour.
St. John residents also heard from Dowe on Tuesday about changes being made to the parking situations in both Red Hook and Cruz Bay, another topic that has raised community concern this year.
Dowe confirmed that VIPA plans to convert its "gravel lot" near the Theovald E. Moorehead marine terminal into a paid parking facility, which will greatly reduce the already limited number of free parking spaces in Cruz Bay. The authority contends that it needs to take advantage of all revenue-generating opportunities to help finance improvements to its facilities.
"Nothing is free," Dowe said. "People may be uncomfortable or not like it, but it's a hard cold fact."
Dowe also suggested that VIPA will be making changes to policy at the Customs lot across from the Cruz Bay Post Office to limit the amount of time vehicles can park there. He said this will free up valuable spaces for residents hoping to run quick errands in town and discourage ferry commuters from parking in those spaces for extended periods.
"We can't allow on our property people to expect that they're going to park there for the rest of their lives absolutely for free," Dowe said.
The Port Authority is also preparing to build an already-permitted second story parking lot over the existing lot at Red Hook's Urman Victor Fredericks Marine Terminal, which will add an additional 88 paid spaces to the facility. The existing lot is frequently filled to capacity, Dowe said, and an alternative paid lot in Red Hook charges the steep fee of $35 for the day.
"Those that live here, you live the problem every day," said Dowe.
He said that during construction of Red Hook's second story lot, parking will be temporarily moved to land adjacent to Ivanna Eudora Kean High School, where VIPA will be putting down gravel and adding security cameras. He said VIPA plans to arrange for ferry passengers to be shuttled between the temporary lot and the terminal, which the authority will pay for by continuing to charge for parking.
"We don't expect to charge people the entire rate that they are paying now, but we expect to charge," he said.
Some St. John residents at Tuesday's meeting said they feel port fees are already squeezing St. John residents who have no choice but to travel often to St. Thomas for groceries, medical services or work.
"As St. Johnians we go to St. Thomas to shop and we pay the fee on your property to get home. So is there any way you can have a fee for a resident versus a nonresident of the Virgin Islands to make up the revenue?" asked resident Lorelei Monsanto.
Stacie January, a daily commuter to St. Thomas, agreed, asking that VIPA consider discounted rates on parking or Red Hook terminal fees for those who must use VIPA property and services every day.
"We're already paying high rates for everything on St. John, from the food to the gas to the views, so we just want for the Port Authority to take into consideration giving residents a deferred rate," January said.
Dowe said that giving regular commuters some rate relief seemed like a "reasonable enough request" for VIPA to discuss, but he also repeated that the authority needs to generate money from its properties and not all special considerations can be accommodated.
"Should there be a senior rate? Should there be a military rate? Should there be a teacher's rate? At some point when we're done with all the rates, nobody's paying," Dowe said.