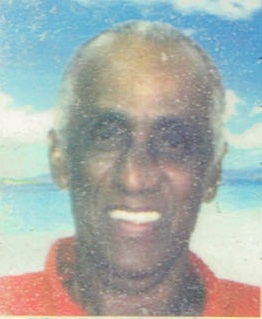 Lucio Mervenne Willie Elva died on June 18.
He was preceded in death by his parents: Marcella Elva and George Mentor; brothers: Tyrone Percival and Antony "Roxy" Mentor; and aunts: Anestazie and Zina Elva.
He is survived by his ex-wife, Hilda Williams-Elva; daughters: Synettekisha M. Elva-Hodge, Shakeyma M. Elva and Shakyla M. Elva; grandchildren: J'Quan Elva, O'Resha J. Elva, Shay'Quan M. Elva and Jah'Heal A. Garcia; brothers: Jeff "Pelay" Elva, Kingsley, Declan, Nathalbert " Nato," and Eric Mentor; sisters: Maria Elliot, Precillia Bellas, Rumelia Mentor, Minerva Simeon and Geraldine Romer; aunts: Leonita, Louisa, Whyie, Merry, Elaine, Lila and Jane Elva; uncle, Herbert Elva; and nieces: Verna-Liza Elva, A'Lena Elva- Gajadhar and many others too numerous to mention.
He is also survived by nephews: too numerous to mention: cousins: Yvonne Elva, Remy Elva, Grace and the John Joseph family, the Biscette family, Mel and many others too numerous to mention; special friends: Monica, Charlotte, Carlos, Bob, Ben, Greg, the Wilson family, the Canaii family, Kibosh, Whitie, Polo, Dosha, Rita, Sandra, Samson and Yacub; as well as other relatives and friends too numerous to mention.
A Memorial Service will be held on Monday, June 27, at Divine Funeral Services Chapel, No. 129 Peter's Rest. Tributes will begin at 9:30 a.m. The service will begin at 10 a.m.
Arrangements are entrusted to Divine Funeral Services and Crematory. We own and operate our own crematory. Let us offer you a Dignified Funeral, affordable by all. Tel: 773-0003/fax: 773-3003.