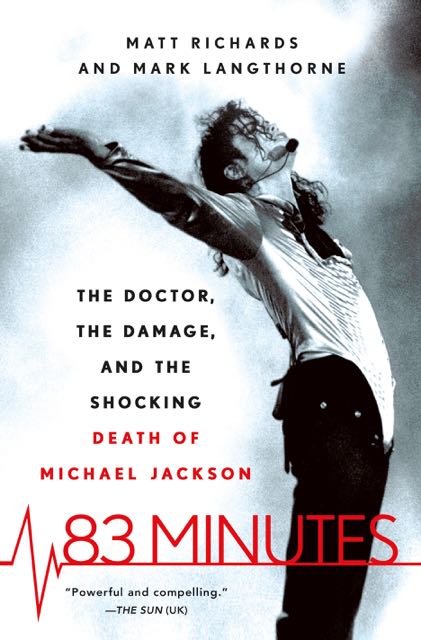 "83 Minutes: The Doctor, the Damage, and the Shocking Death of Michael Jackson" by Matt Richards and Mark Langthorne
c.2016, Thomas Dunne Books $27.99 426 pages
It doesn't take very long. An accident, a murder, a surprise can happen in an instant that can seem like a lifetime. It doesn't take very long – or does it?
The odd thing about time is that it's shapeable, as you'll see in the new book "83 Minutes: The Doctor, the Damage, and the Shocking Death of Michael Jackson" by Matt Richards and Mark Langthorne.
On June 25, 2009, when the 911 call came into the Ronald Reagan UCLA Medical Center in Los Angeles, medical staff had no idea they were in the middle of pop culture history. The emergency operator and the paramedics he dispatched didn't know the identity of the man they were asked to help, but they learned soon enough that their patient was Michael Jackson.
For Jackson, it had been a long, rough road to that moment.
Throughout his life, he'd survived loneliness, physical abuse, estrangement from family, accidents and scandals. Outwardly he was a survivor, driven, a perfectionist. Behind closed doors, though, there was something more sinister.
In the days following the making of a commercial in which Jackson so famously received scalp burns, he was understandably in pain. Doctors administered narcotics to alleviate his suffering and, consequently, Jackson became increasingly dependent on drugs. Later, he complained of insomnia and he visited several medical providers for more, different prescriptions. He even asked for help from the doctor his children had been seeing for their allergies.
Dr. Conrad Murray was happy to oblige.
Whether Murray was officially hired to be the personal physician for Jackson's comeback tour is a matter of opinion but the authors say that Murray needed money, and assuming Jackson's care was his chosen method. That included giving the singer drugs that allowed Jackson to sleep but which fueled his addiction. It didn't take long before Jackson needed more-powerful drugs, which Murray procured in large quantities.
And on June 25, 2009, one of those drugs shook the world…
It's rare for me to like a book before I even get to the end of page one, but that's what happened with "83 Minutes." This is an easy book to dive into.
Starting with what became a crime scene, Richards and Langthorne then take us back 50 years to show how Michael Jackson's death seemed to be decades in the making. To rehash Jackson's biography may seem redundant – haven't there been enough MJ books? – but it's actually a fascinating scene-setter for the recreation of the dramatic events of seven years ago.
Richards and Langthorne go on to imagine what may have happened based on what's known. Was Jackson murdered – and if so, by whom? Their hypotheses are intriguing, especially in light of the aftermath of Jackson's death, his will(s), and the legacy he left.
They say you'll always remember where you were when you hear of certain tragedies and "83 Minutes" takes you there again. For fans, definitely, as well as students of pop culture and true crime aficionados, immersion in this book won't take long.
__
The Bookworm is Terri Schlichenmeyer. Terri has been reading since she was 3 years old and never goes anywhere without a book. Her self-syndicated book reviews appear in more than 260 newspapers.