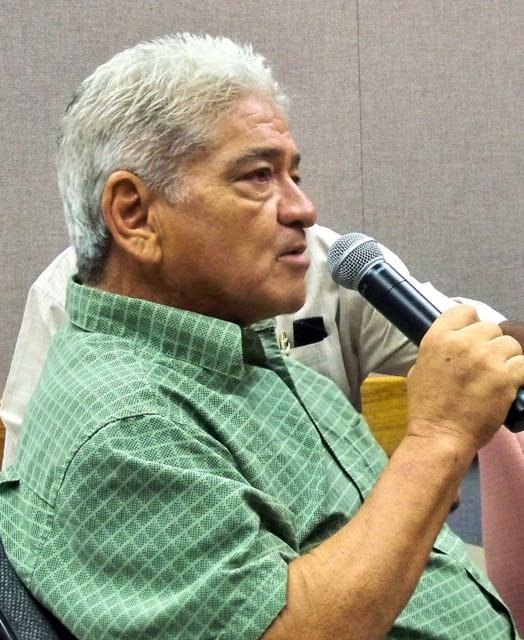 As expected, the Medical Cannabis Act occupied much of the discussion at Sen. Positive Nelson's press conference Tuesday. However, his comment about the failure of the V.I. Water and Power Authority to bring its propane project online raised additional interest.
In discussing the V.I. Infrastructure Reconstruction Plan bill, which would include money to purchase land for a WAPA power plant, Nelson said the propane project was forcing a 2016 model on a 1950 model. "We can't use it," he said.
Asked if he was saying the project would never come online, Nelson challenged the press to investigate "why it has not come online."
The contract for the propane project was signed in July 2013 with the target completion date the end of 2014. The initial cost of $87 million has been revised to $150 million. The last projected completion date for the project was April of this year.
Along with the Virgin Islands Medical Cannabis Patient Care Act and infrastructure bills, Nelson also discussed the Virgin Islands Public Officials Compensation Commission Act. Nelson urged the public to contact senators to pass all three measures.
They are scheduled to be heard on Friday on St. Croix and Monday on St. Thomas in the Committee on Health, Hospital and Human Services. A vote on whether to move the bills out of committee will be made on Monday.
Nelson said, "These are relevant and present matters that can have a positive impact on the Virgin Islands."
He said marijuana "has been falsely arrested, demonized and is now trying to clear its name." He said that marijuana can aid people with a variety of different medical problems. Nelson listed maladies such as Parkinson's disease, cancer, post-traumatic stress disorder, vomiting and nausea.
He said this bill came out of a referendum where more than 56 percent of voters in the Virgin Islands were in favor of medical marijuana legalization. Nelson said other states have gone forward on legalization and a V.I. delegation went to Colorado and Washington state to see what worked and what did not work. He said this bill included all the "best practices."
Nelson emphasized that everything in the bill favored local entrepreneurs capitalizing on the development of a medical marijuana trade in the islands. He said a medical marijuana industry could bring tens of millions of dollars to the islands and hundreds of jobs.
As for the possible spillover from medical use to recreational use of marijuana, he said everything possible will be done to prevent that. However, Nelson added, "There is recreational use of marijuana on the islands now. This is not going to change that."
He asked supporters to wear green on Friday and Monday – the days of the Senate hearings to show support for medical cannabis legislation. Besides the public hearing at the Senate, Nelson said public debates upon the issue were being scheduled, but details were not finalized yet.
Dr. Suzanne Sisley, widely known for her research into potential medical uses of marijuana to treat veterans, will speak on St. Croix and St. Thomas.
Nelson said he expected an opposition expert to also take part in debates. He said, "This weekend the Virgin Islands will be the site of a national debate."
No discussion was elicited after a brief overview of the Public Compensation Commission Act. This act would form a commission that would meet next January and then every four years afterward to review salaries and expense allowance of government officials. The officials falling under this review would be senators, the governor and his cabinet, and directors of government agencies.
When asked why his infrastructure plan was still sitting in the Finance Committee, Nelson said he was frustrated. "The main reason it is sitting in Finance is because my colleagues say they did not have input," Nelson said, adding that, time and again, he has asked his colleagues to give input. He said, "Sometimes politics rule and the people suffer."
The plan asks that $250 million be secured by the government through a loan, note or bond sales. Nelson said $100 million of that would go to "retroactive payments due and owing to both active and retired government personnel." He said this might appear political but it was not.
"It is a debt owed by the government and should be paid," he said, adding that this influx of money "onto the streets" of the Virgin Islands would be a stimulus to the local economy.
Another $1 million would be set aside to "be used as an offset for outstanding GERS contributions when the employer has failed to pay the employer portion of the contribution in order the retirees to receive retirement annuity," he said.
Another $10 million would set aside for an Apprentice and Education and Employment program.
Set aside for the purchase of the Renaissance property would be $40 million.
At the end of the press conference at the Curriculum Center on St. Croix, Nelson mentioned that the Emancipation Day: Fort-to-Fort Walk to Freedom is set to go on July 3.
He also called attention to the Summer Enrichment Empowerment Development program, July 5 to Aug. 19, at St. Croix Renaissance for ages 5 to 17. For more information, call 712-2210.