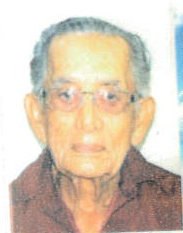 Rafael Brignoni Morales of Estate Work & Rest transitioned into eternal life on June 9. He was 89.
Rafael was born in Vieques on Nov. 26, 1926. He was in the Korean War where he earned three medals and received an honorable discharge in 1955. He lived most of his life in Vieques with intervals on St. Croix. Due to his poor health he moved to St. Croix on June 2014 to live with his only daughter Maria Nelly Brignoni and son-in-law Victor Martinez until his passing on June 9. May he rest in peace.
He is survived by his daughter, Maria Nelly Brignoni; grandchildren: Virginia and Luis (Pito) Rodriguez, Jeanette and Eduardo Santos; great-grandchildren: Warren Williams Jr., Melinda and Joel Mercodo, and Emelie and Melanie Santos; great-great-grandchildren: Amani, Jamani and Kimani Williams, and Dylan Wood; sisters: Clara Aponte and Graciela Cordero; brother, Leoncio Rivera; son-in-law, Victor Martinez; nieces, nephews, and other relatives and friends too numerous to mention.
The family requests that those in attendance wear colorful and cheerful clothing.
In lieu of flowers contributions can be made to the Catholic Charity Soup Kitchen.
The viewing will be held at 10 a.m. followed by a funeral service at 10:30 a.m. on Wednesday, June 22, at Holy Cross Catholic Church. Cremation will follow.
All arrangements are by James Memorial Funeral Home Inc.