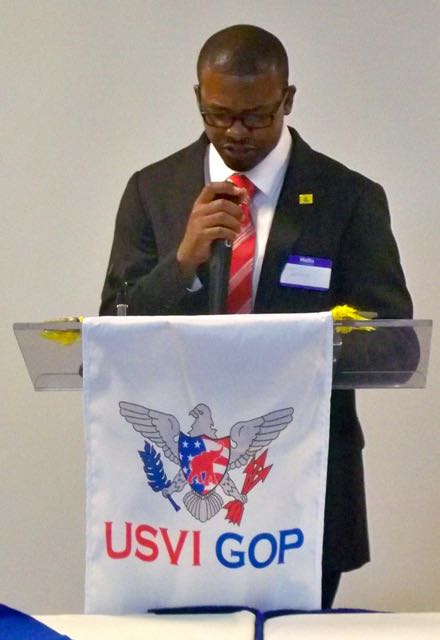 The Republican Territorial Committee on Saturday certified its delegates to the Republican National Convention and nominated a candidate to oppose Stacy Plaskett for delegate to Congress – or maybe it didn't.
GOP State Chairman John Canegata and his supporters, although substantial resistance has been mounted against the group, would say they did. Everything is good.
The convention at the Windward Passage Hotel on St. Thomas, which was opened by Canegata and then turned over to Dennis Lennox, claims legitimacy as being the true representatives of the party through court rulings and Canegata' s official position as state chairman of the V.I. Territorial Committee.
The convention certified an alternative group of candidates to the Republican National Convention than those who originally won the caucus. Canegata has maintained that the individuals who won the caucus in the spring are not eligible and/or did not follow party procedure.
The Republicans on Saturday also approve putting forth these candidates in the November election: for delegate to Congress, Gordon Ackley; to the Legislature, St. Thomas-St. John district, Tim Daly, Vince Danet and Eloi George; the Legislature, St. Croix district, Robert Morehead; St. Croix Board of Elections, Lilliana Belardo de O'Neal and Jevon Williams; St. Thomas-St. John Board of Elections, Lawrence Boschulte and Robert Schanfarber; and St. Croix Board of Education, Marion Baptiste.
As for party offices, Canegata was reelected as chairman; Belardo de O'Neil, a former territorial senator and currently the chairwoman of the St. Croix Board of Elections, was reelected as national committeewoman.
Replacing long-serving national committeeman Holland Redfield is St. Croix resident Jevon Williams, a 29-year-old Army National Guard veteran. Williams is to assume office at the conclusion of the Republican National Convention.
But there may be problems with all this. The Virgin Islands Board of Elections recently ruled that the cutoff date has passed to certify a candidate and the candidates put forth by this convention would not be certified.
Lennox, who chaired this convention, said that ruling was irrelevant because that date was for candidates who would be running in a primary. He said, "We are not having a primary. We decided that would be a waste of taxpayer money."
Lennox said the convention was deciding what candidates would be put forth in the November election and they would be presented to the Board of Elections on Monday. He added that the board was legally required to certify those candidates.
The other problem is that another convention of Republicans claiming to be the Territorial Committee convened at the Windward Passage two weeks ago and certified a different set of delegates for the national convention and installed Warren B. Cole as state party chairman, in their opinion, ousting Canegata.
That group claims legitimacy through having the majority of the territorial committee attending. Two weeks ago there were 28 delegates attending who carried proxies allowing those attending to represent 17 others. Although the room had a few more people this Saturday, the secretary registered only 21 delegates.
The crux of which group represents the Republican Party in the Virgin Islands is dependent on which group has the majority of territorial committee members. At a meeting on May 6, which his opponents say was illegal, Canegata allowed new members to be appointed to the committee, new members that gave him a majority of supporters.
This convention, like the one two week previously, was strict in following party rules and Robert's Rules of Order, as if each group anticipated challenges to its actions.
Canegata opened the convention Saturday saying, "In recent years the V.I. Republican Party has been quiet. I can guarantee that is going to change."
This convention differed from the earlier one by putting forth candidates for elective office. Several of the candidates gave short speeches.
Ackley said, "I know my opponent. I helped her in 2014. I respect her, but the fact
is Stacey Plaskett isn't getting the job done. We need a congressman who can deliver so our children and grandchildren have a better, brighter future."
Following the convention, according to a press release, the new members of the Territorial Committee met in an organizational meeting and reelected April Newland, a St. Thomas real estate agent, as party vice chairman and Schanfarber as party secretary. St. Croix's Andrea Lee Moeckel was elected treasurer. In the same press release, which came from Canegata, it said it was a "record turnout" at the convention.